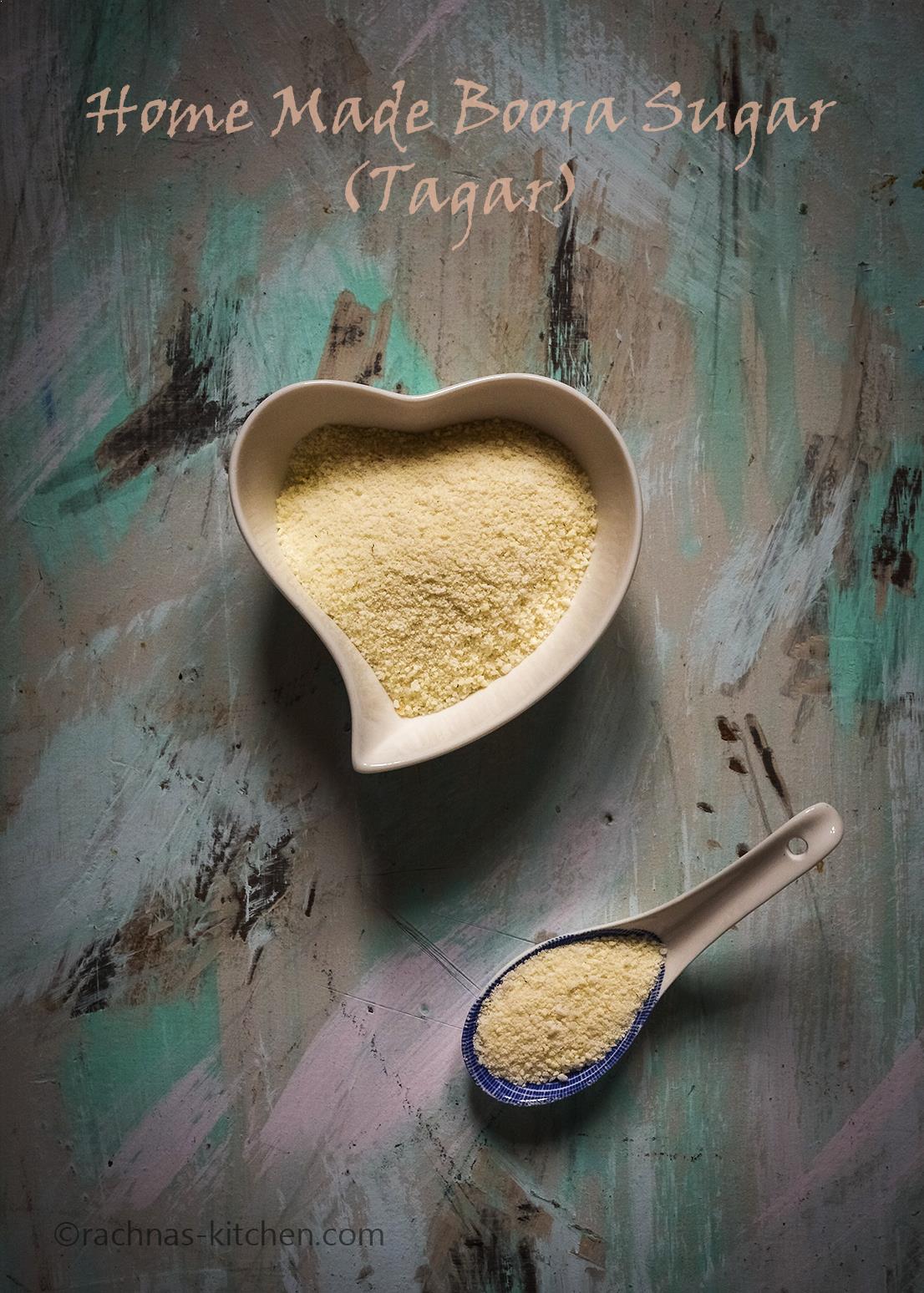 Tagar or Boora sugar is a porous sugar which is made by melting sugar in water to reach a state of crystallization again. This is how sugar loses its moisture and also it gets clean. Some times, I use boora (tagar) sugar in place of normal sugar in sweet dishes, because it makes recipe more tastier.
Course:
Home made Ingredients
1

cup

or 255 grams Sugar

70

ml

or 5 tablespoon Water

½ 

teaspoon

Ghee

1

teaspoon

Milk

optional
Take a wok, pour water and sugar in it. Place the wok on low heat. Cook the solution by stirring with the spatula in 2 to 3 minute intervals.

Heat the sugar syrup for next 5 min . This will become a really thick and transparent syrup.

Take one drop of syrup on any dish to check whether it is thickening or not. You will also see some amount of crystallizing sugar sticking around the sides of the pan.

Add a small spoon of ghee to the mixture.(To avoid the lump formation).

Turn off the burner. Let it cool down and stir it continuously so that a big lumps could not form. It will turn into porous powder sugar.It can also be stored for about 15 to 20 days. More than that it might get smelly because of use of ghee in this recipe.
If you think that sugar is impure, you can remove impurities by adding 1 teaspoon of milk to the boiling mixture in step 2 . You will notice hat scum is floating above the mixture. Clear it by the help of spatula and follow the other steps.