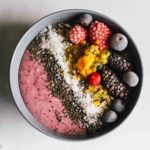 Banana Berry Smoothie is luscious, creamy and satisfying smoothie. These days I feel obsessed with these smoothie bowls aka bowl of nutrition.
Add frozen berries and frozen banana in a blender and blend it on low.

Then add coconut milk or cows milk and blend again while scraping from sides, up to soft serve consistency.

Now pour smoothie in a bowl and top up with the toppings of your choice.

Enjoy immediately

If you want to store leftover, keep in freezer up to 1 week. Then thaw it once before having it.