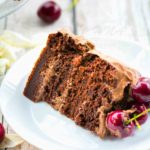 Basic Eggless Chocolate Cake Recipe without condensed milk with Video instructions. This chocolate cake is made of very simple ingredients which are easily available in most of the kitchens. I really enjoy eggless baking as many of my family and friends are vegetarian and likes to avoid egg as well.
Dry ingredients
1¼

cups

all-Purpose flour

1¼

cups

white sugar

½

cup

cocoa powder

½

teaspoon

baking powder

¼

teaspoon

baking soda

½

teaspoon

salt
Frosting Ingredients
1/4

cup

butter

room temperature

3/4

cup

powdered sugar

2

tablespoons

cocoa powder

1/2

teaspoon

vanilla extract

1

tablespoon

milk

if needed
Preparing the cake
Preheat your oven to 200 C and at the same time prepare one 6" round tall baking pan by lightly greasing and flouring it.

In a sifter, add all-Purpose flour, cocoa powder, baking powder, baking soda and salt. Then add In a separate bowl add milk, oil, vanilla and vinegar. Mix it vigorously.

Pour the wet mixture into the dry mixture and mix until just combined. Don't over mix.

Then Pour into pan and tap on the floor twice.

Bake for about 30 to 40 minutes until a toothpick inserted into the center comes out clean. Let the cake cool completely before frosting.
Preparing the frosting
In a deep bowl, add butter, sugar, cocoa and vanilla. Mix it with a hand blender. If the frosting seems to be stiff, add milk and mix again.

Note - make sure that you don't over mix the frosting other wise butter would start to curdle.
Assembling the cake
Place the sponge on the worktop then cut the cake horizontally dividing into two equal parts. Take the lower part of cake dab with orange juice then place a dollop of butter cream icing. Spread it to smooth. Take other part and place on lower part of cake. Cover the cake with icing all around. Then garnish with fruits and flowers of your choice.

I had baked 2 cakes, cut each into two halves and then used 4 layerings of cake thats why it looks much taller and have multiple layers.