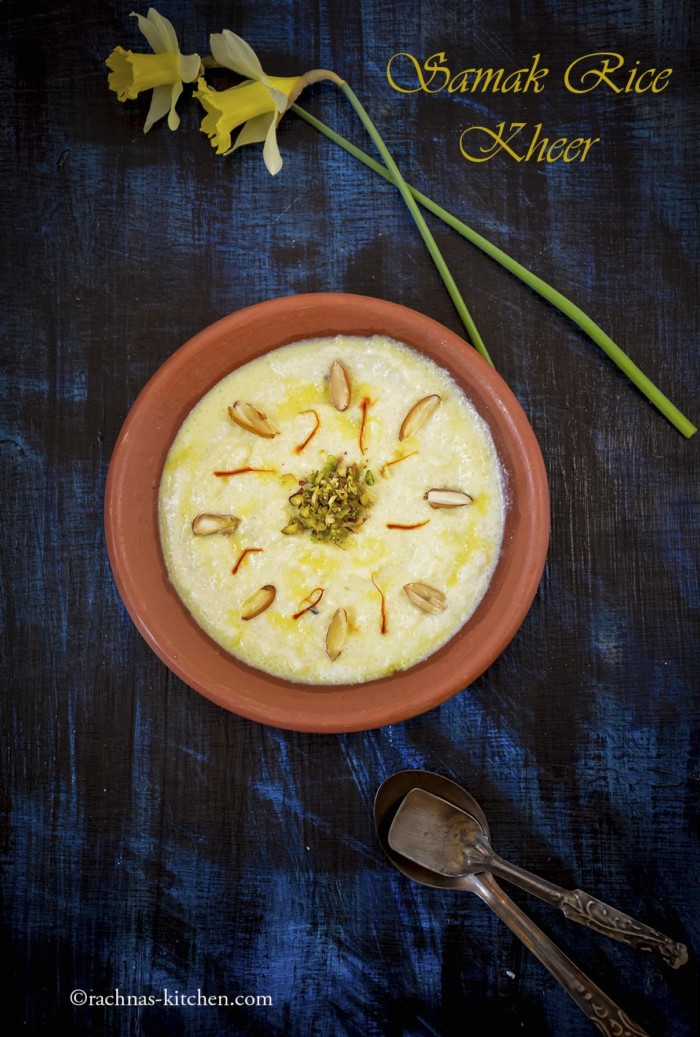 Barnyard millet pudding is a very healthy, creamy and rich delicacy made up of  barnyard millet.
*measurement for cup used

1 cup = 250 ml

Vrat ke Chawal – ¼ cup

Milk – 2 1/2  cups

Jaggery

gud – 3 tablespoon or Sugar to taste

Green cardamom - 4

crushed into fine powder

Saffron – few strands

Dry nuts

almond, cashews, raisin - 2 tablespoon, chopped
Wash barnyard millet well and soak in enough water for at least 30 minutes. After 30 to 45 minutes of soaking drain all the water.

Place a heavy bottom pan on medium heat.Add milk and samak rice (barnyard millet) to it. Once milk and rice comes to boil, add saffron.

Lower the heat and cook till millets gets cooked properly. It will take around 10-12 minutes. Keep on stirring occasionally to avoid scorching.

After 12 minutes, it should be cooked and texture turned to creamy. At this point add jaggery.

Add chopped dry fruits and crushed cardamom pods. Cook for another 2 minutes or till consistency of kheer become slightly thick but still in pouring consistency. Then turn off the stove. Barnyard millet pudding is ready to serve. Pour it in serving bowls and garnish with chopped nut.