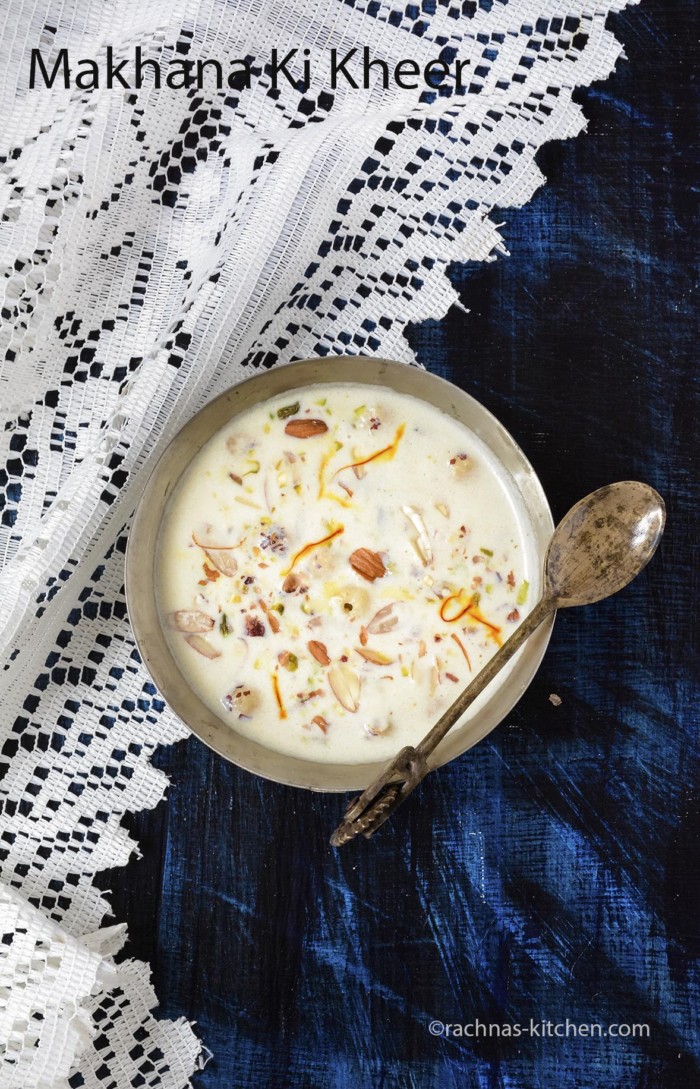 Makhana kheer is a pudding made up of makhana, milk and sugar. These nuts are different from other nut as Makhana are very low in fat and high in carbohydrate. It also has lots of nutritional benefits as they are rich in protein, carbohydrates, potassium, phosphorus, fibre, magnesium, iron and zinc.
Makhana

foxnuts- 1 cup

Ghee or clarified butter - 1 tablespoon

Milk - 2 1/2 cups

Cashew nuts - 2 tablespoons

Saffron - 10- 12 strands

Sugar- ¼ cup or adjust to taste

Cardamom seeds powder - 1/4 teaspoon
Place a pan over medium heat and a tablespoon of ghee (clarified ghee).

Add the phool makhana and cashews into it and roast them till the makhanas become crisp. The colour of cashew nuts will change to golden brown. It will take around 4- 5 minutes.

In a deep bottomed pan, bring the milk to boil and add roasted makhana from step1 to it.

Add cashew nuts, sugar and cardamom seeds powder. Stir everything and simmer milk on medium heat for 6-7 minutes or till the phool makhane (foxnuts) softens and the milk thickens a bit. Switch off the gas.

Makhana kheer is ready to serve. You can serve it hot or chilled. Remember, after cooling down the consistency will become a little more thick.