Aloo gobi masala is a South Asian dish popular in all parts of India. Aloo means potato and Gobhi (also spelled Gobhi) means cauliflower.It is made in different styles and one of those is commonly known as 'Dhaba Style Aloo Gobhi'.
Ingredients
2 cups of chopped potatoes (peeled and cut into ½ inch cubes)
1 large tomato finely chopped
3-4 cups of chopped cauliflower(cut into medium-sized florets)
1 large Onion, chopped
1 tsp Ginger-Garlic Paste
2-3 Green Chillies, roughly chopped (Adjust acc to taste)
2-3 tablespoon Coriander Leaves, chopped
1/2 tsp Dry mango powder
½ tsp Turmeric Powder
¾ tsp Red Chilli Powder (Adjust acc to taste)
½ tbsp Dhania/Coriander Powder
½ tsp Garam Masala (Adjust acc to taste)
1 tbsp Oil
1 tsp Jeera/Cumin Seeds
A pinch of Hing/Asafoetida
Salt to taste
Step by step aloo gobi masala 
Heat oil for frying in a big wok. Add potatoes , fry till golden , drain on paper towel and keep aside.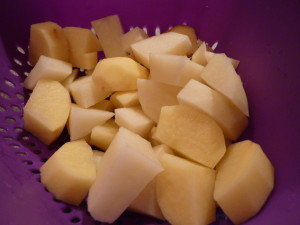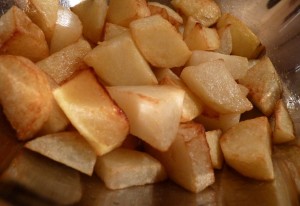 In the same oil , fry cauliflower florets till golden , drain and keep aside.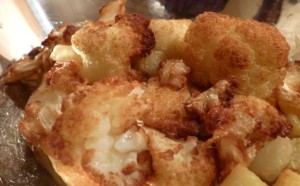 Heat oil in another pan and add cumin seeds and hing.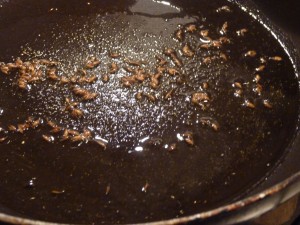 When cumin seeds crackle and change colour, about 20 seconds, add finely chopped onions.
Sauté the onions till they turn translucent and then add ginger-garlic paste, green chillies, green peas and finely chopped tomatoes. Give it a good stir about 1 minute.
Next add all the spice powders and give it a good stir for 30s.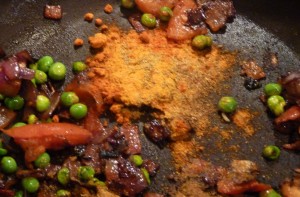 Add 3 tbsp water to masala to let it cook for 40 secs.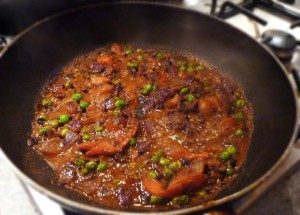 Mix in cubed potatoes and give them a good stir for 3-4 minutes.
Add cauliflower florets and salt to taste and stir them for 2-3 minutes, making sure every individual cauliflower florets are coated with spice mix.
Cover the lid and let it cook for 7-10 minutes at slow flame, stirring in between to make sure that vegetables don't stick the bottom of the pan.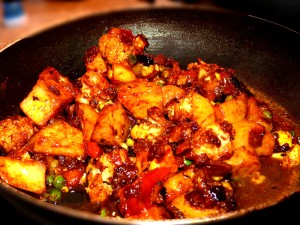 By now the vegetables gets cooked through but still retain their shape. Garnish with finely chopped coriander leaves and mix them well before serving it.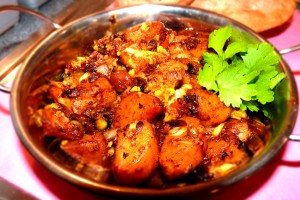 One can serve it with Whole Wheat Naan or Butter Naan or with any stuffed parathas.I served mine delicious Aloo Gobhi with puris,achar and few rings of onion.