Apple Jalebi Recipe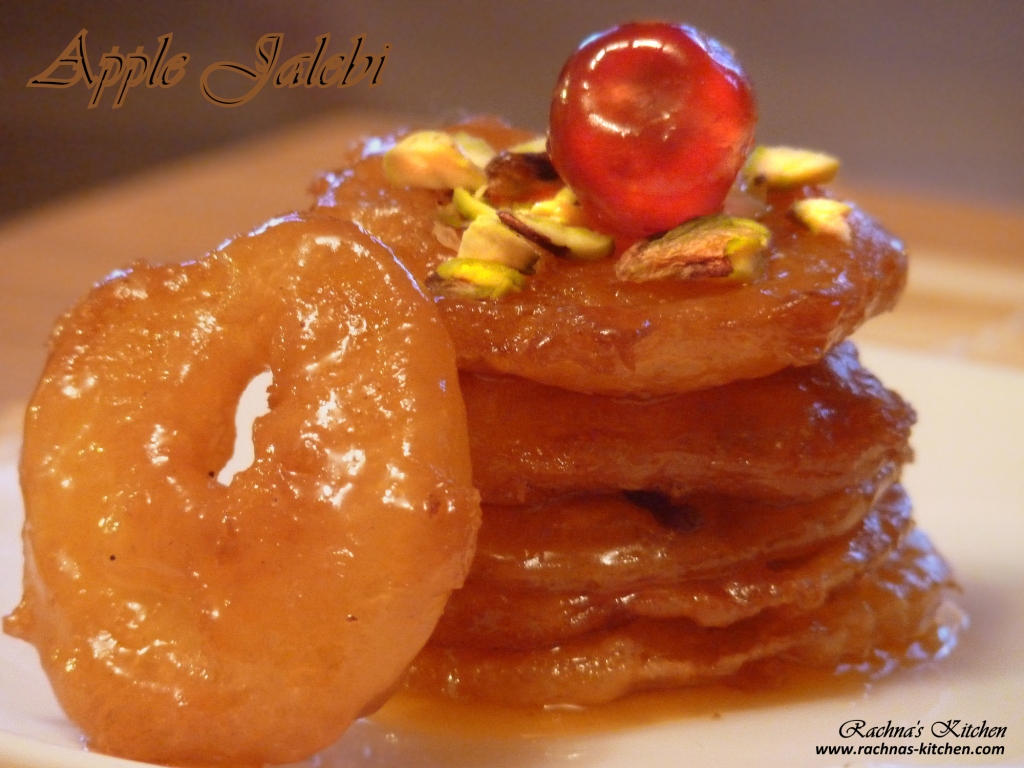 Apple jalebi recipe is batter coated deep fried apple rings, dipped in the fragrant rose sugar syrup. Apple fritters are so delicious that I am drooling now while posting this recipe. I am happy to make this dessert as it has indirect contact of one of the most nutricious fruit i.e. Apple. One advice is to eat them while hot. Once they cool, lose their crunchiness and become very soggy. Now over to the recipe.
Prep time: 20 min | Cooking time: 10 mins |
Type: Dessert | Serves:10 pieces

Ingredients:
2 apples peeled and sliced them in thin rings
3/4 cup all purpose flour (plain flour, maida)
1/2 teaspoon dry yeast
1/2 teaspoon sugar
1 tablespoon oil
Oil to fry
For Syrup:
1 1/4 cup sugar
1 cup water
A few drops of rose water
1/4 teaspoon cardamom powder
1 tablespoon blenched and sliced pistachios for garnish
Step by step Apple Jalebi Recipe
First make batter for the jalebi, dissolve the yeast and sugar in ¼ cup warm water, and let it sit for about 5 minutes.
Mix the flour and oil together.
Add the yeast solution to the flour and mix. Make a smooth batter. Add water as needed.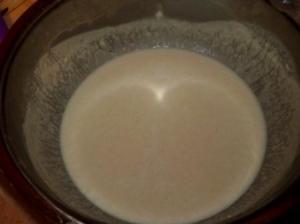 Consistency should be like pancake mix.Set the batter aside and let it sit in a warm place for 30 min. (I kept it in oven)
Make sure you do not over ferment the batter. After fermenting batter will be little lacy. Now peel the apple and cut them into thin slices. Dip them into water so they do not get discolour.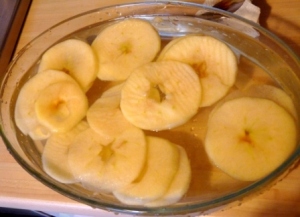 Prepare syrup:
Boil the sugar and water together. Add cardamom powder and  boil for about 8 minutes until syrup is sticky (less than 1 thread consistency ). Add few drops of rose water to flavor syrup.Set aside.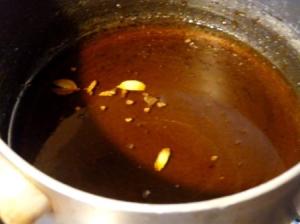 Frying the jalebis:
Heat the oil in a frying pan about 1 inch deep. To check if the oil is ready, put one drop of batter in the oil. The batter should sizzle and come up without changing in color right away.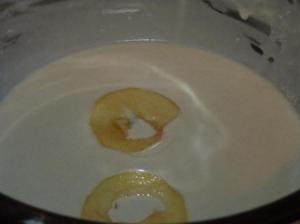 Dip the apple slices into the batter one at a time, making sure the slice is covered with the batter. Then, slowly drop the slices into the frying pan.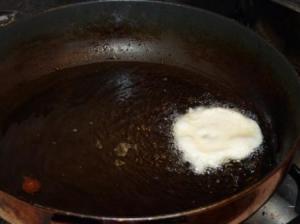 Fry the jalebi in small batches. The jalebi will take about 4 to 5 minutes to cook.
Turn them occasionally.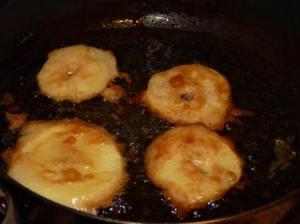 Fry the jalebi until both sides are golden-brown.
Transfer them into the warm syrup.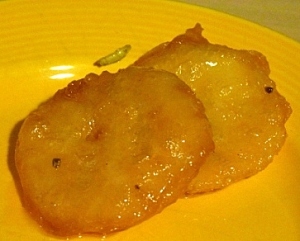 Let jalebi soak in the hot syrup for a minute and take out over wire rack so excess syrup can be dripped from jalebi. Garnish with sliced pistachios.
Serve apple jalebi hot. You can also serve them with chilled rabri.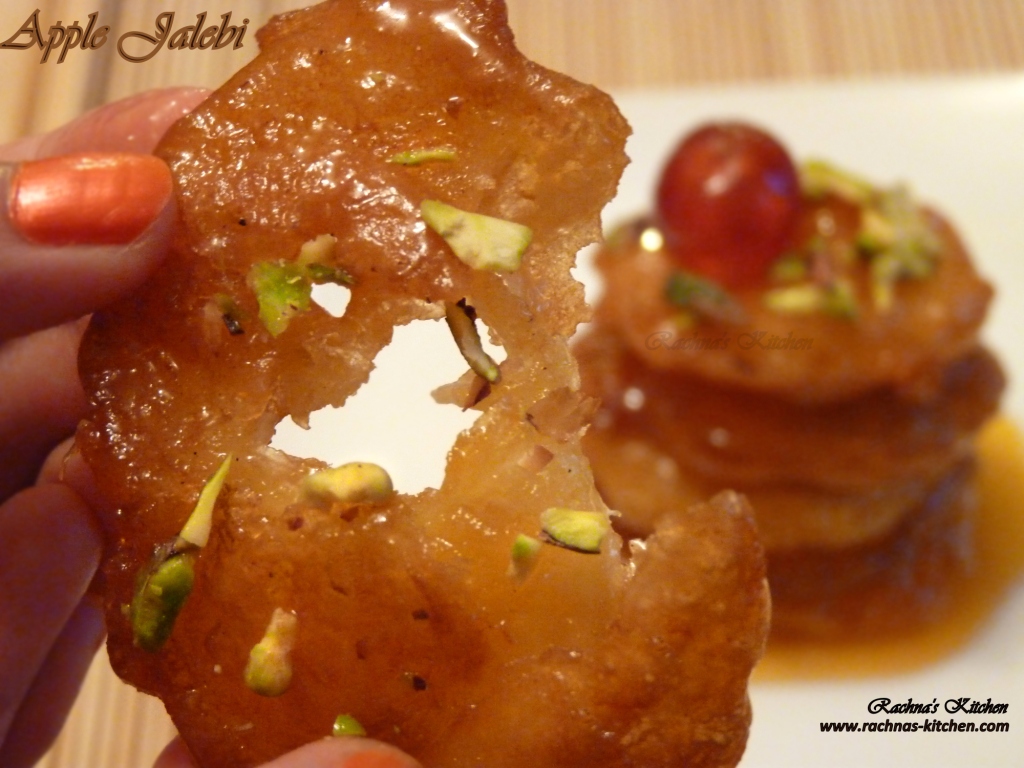 Tips
• For healthier version, you can brush the jalebis with honey so as to avoid intake of too much of sugar instead of dipping in sugar syrup.
• You can use any variety of apples available but green (Grany smith apples) works best.
• You can make it without yeast. Corn starch/flour – 1 tsp, Yogurt/curd – ¼ cup, Baking powder – ½ tsp. Mix together all three ingredients together and batter without yeast is ready. Follow remaining steps as instructed.