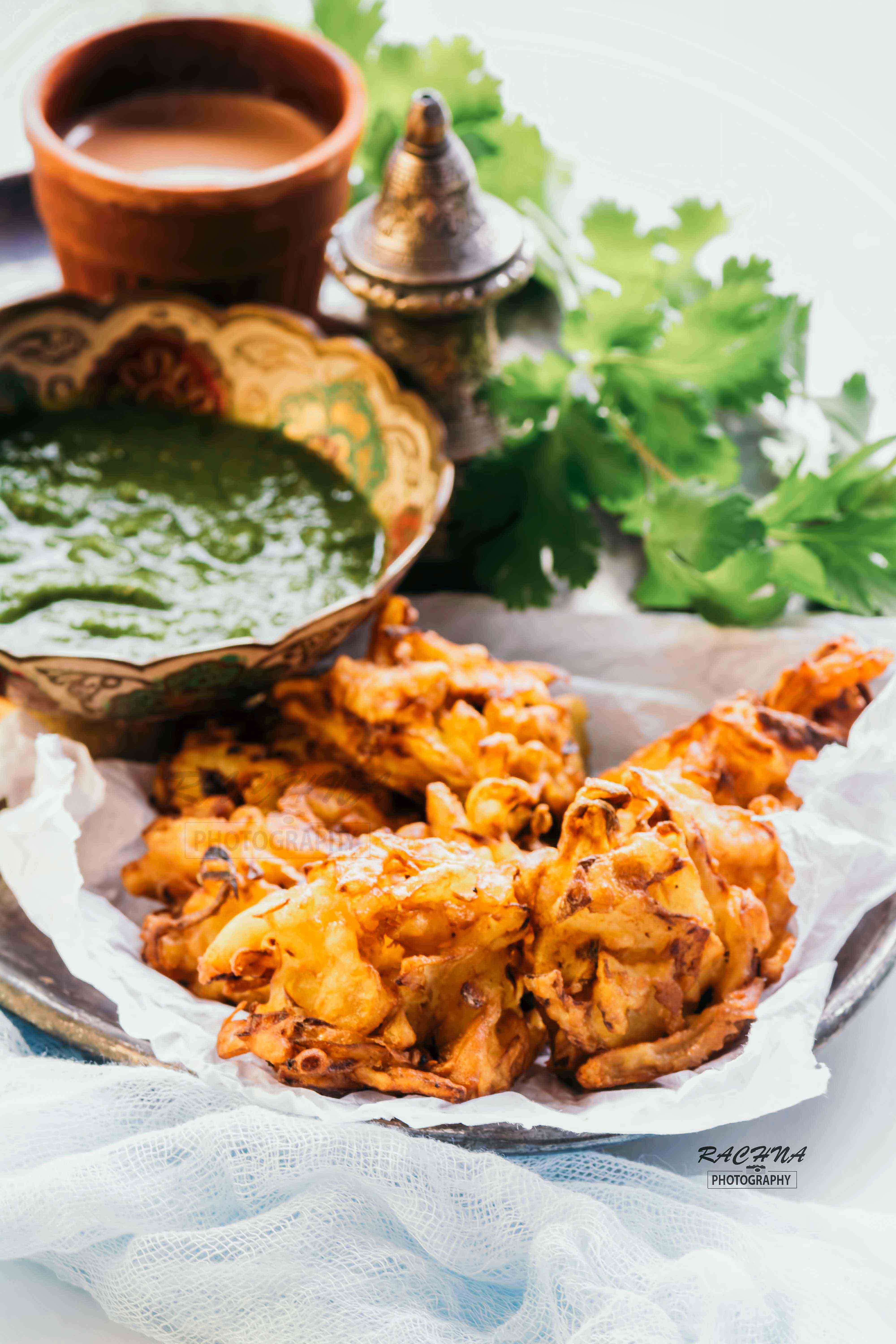 Onion pakora recipe with step by step video. In english we may call them Onion fritters. They are made with gram flour, sliced onion and few spices.
This onion pakora recipe will give you the best crispiest pakora especially if you use the key points mentioned in notes below. Onion pakora are the Indian street style snacks and can be found easily at road side shops and food stalls in India, people love them especially during rainy season. My family enjoy these simple pakoras occasionally, paired with Authentic Indian masala chai. They are also served with green chutney and and sweet tamarind chutney
If you are in search of other snacks recipes you may like aloo samosa, dahi vada, and instant crispy jalebi. In many cook books I saw that onion pakora recipe calls for rice powder, semolina and also the cornflour. These ingredients are added to make the pakora crispy. I have not used any of these; I use my mother's secret ingredient to make the crispiest onion pakora . Well! time for revelation. My mother used to add 1 tablespoon wholewheat flour. She passed her genes to me so I do the same way and it is always a big hit whenever I make pakora for friends and family.  They are perfectly crispy outside and moist from inside. So here is the best recipe. I hope you like it.
Onion pakora / Onion fritter video recipe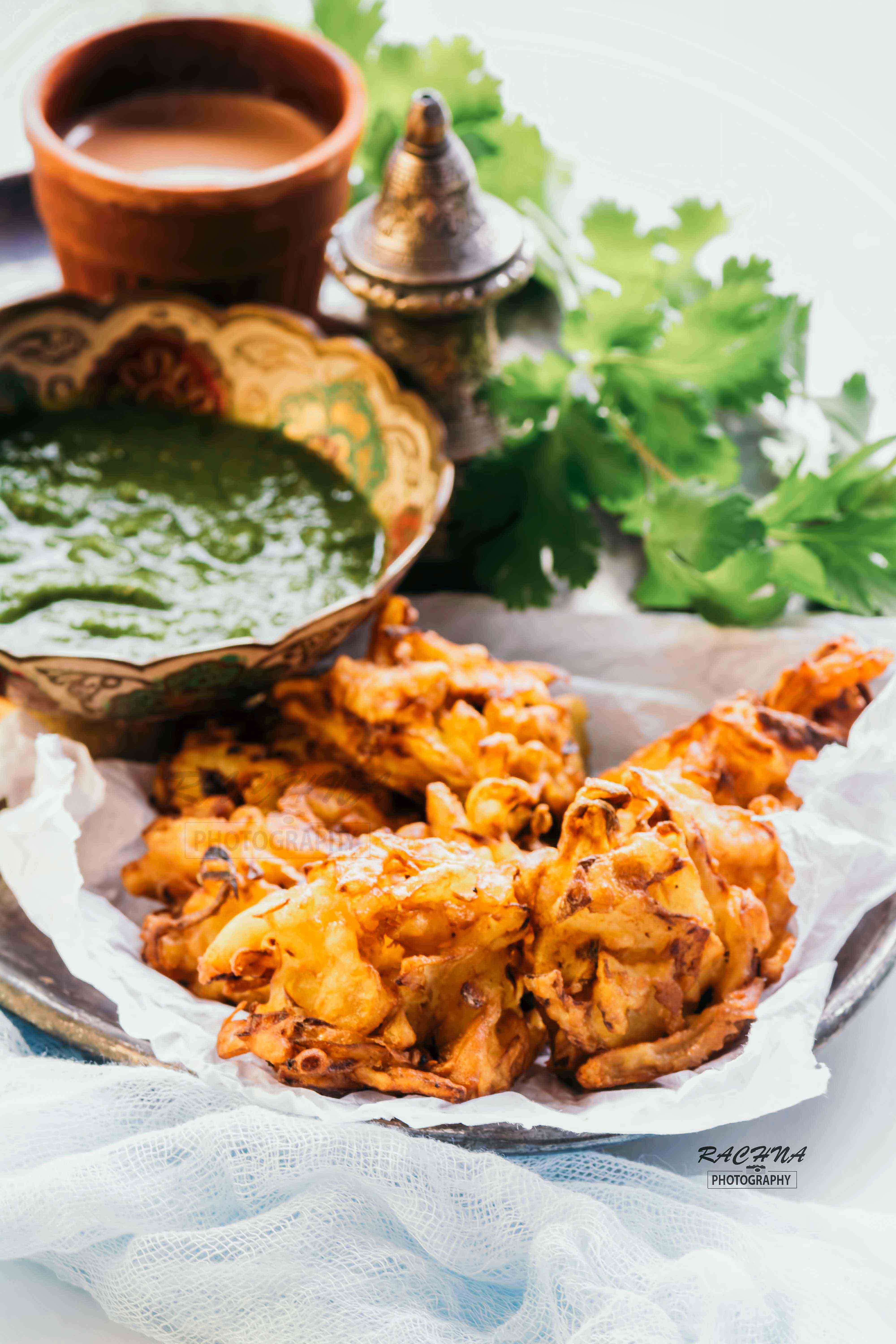 Crispiest Onion Pakora Recipe | How to make onion pakoda
Onion pakora recipe with step by step video.
Ingredients
2

cups

sliced onions

1

cup

gram flour

besan

2

tablespoons

whole wheat flour

1

tablespoon

chopped coriander leaves

optional

1

teaspoon

chopped green chilli

adjust as per taste

1/4

teaspoon

red chilli

1/2

teaspoon

cumin powder

1

pinch

asafoetida

hing

Salt as required

Water to make make batter around 1/4 cup

Oil for deep frying
Instructions
In a large mixing bowl, add sliced onion then gram flour, whole wheat flour, green chilli, red chilli, asafoetida and salt. Whisk it with a spoon.

Before making batter, heat up a wok and oil. Meanwhile prepare batter by adding water gradually in little quantities and mix all the ingredients such that sliced onion is coated well with flour batter. It should be like moist sticky dough.

Note a.Do not add more water unless required. If batter becomes too watery or thin then pakodas will not turn crispy also they absorb lot of oil while frying.

Note b.Some times I don't add water. If you press sliced onions along the mixture, it will release enough water to make sticky dough. I guarantee this way making pakoras are the crispiest onion pakora.

Note c.Now check whether oil is hot or not by dropping a pinch of mixture in hot oil, if it comes upward immediately, then oil is sufficiently hot for deep frying.

Take a tablespoon of dough mixture from Step2 loosely and drop in hot oil. Fry until cook and get golden brown. Keep flipping in between to ensure the even cooking.

Take them out in a paper tissue and serve hot.