Punjabi Besan Ladoo Recipe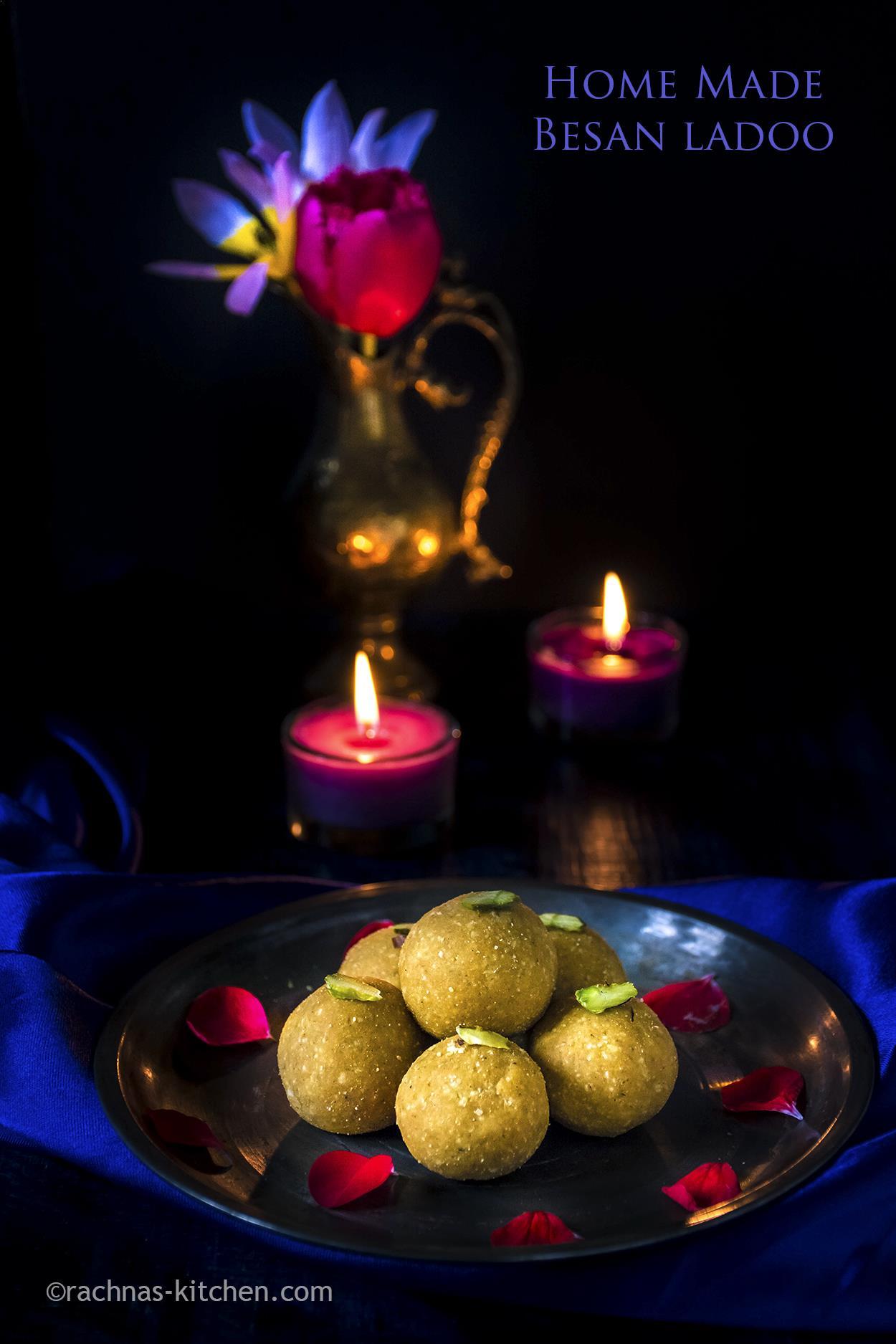 Punjabi Besan ladoo is a famous Indian dessert, they are the lemon size ball shape sweetmeat made up of aromatic gram flour (chick pea flour ) with sugar and ghee. They are grainy and matt in texture. These ladoo are so famous in India that they don't need any intro.
On festivals like Diwali, holi or even if there is no festival these besan ke ladoo are must have dessert for me and my family. They are so aromatic that I can't resist my self from taking 3rd and 4rth one. I feel, they are addictive. I have also uploaded besan ladoo recipe video  in traditional way means with lots of ghee.
Indian festival sweets recipes you may enjoy,
6. Traditional jalebi without yeast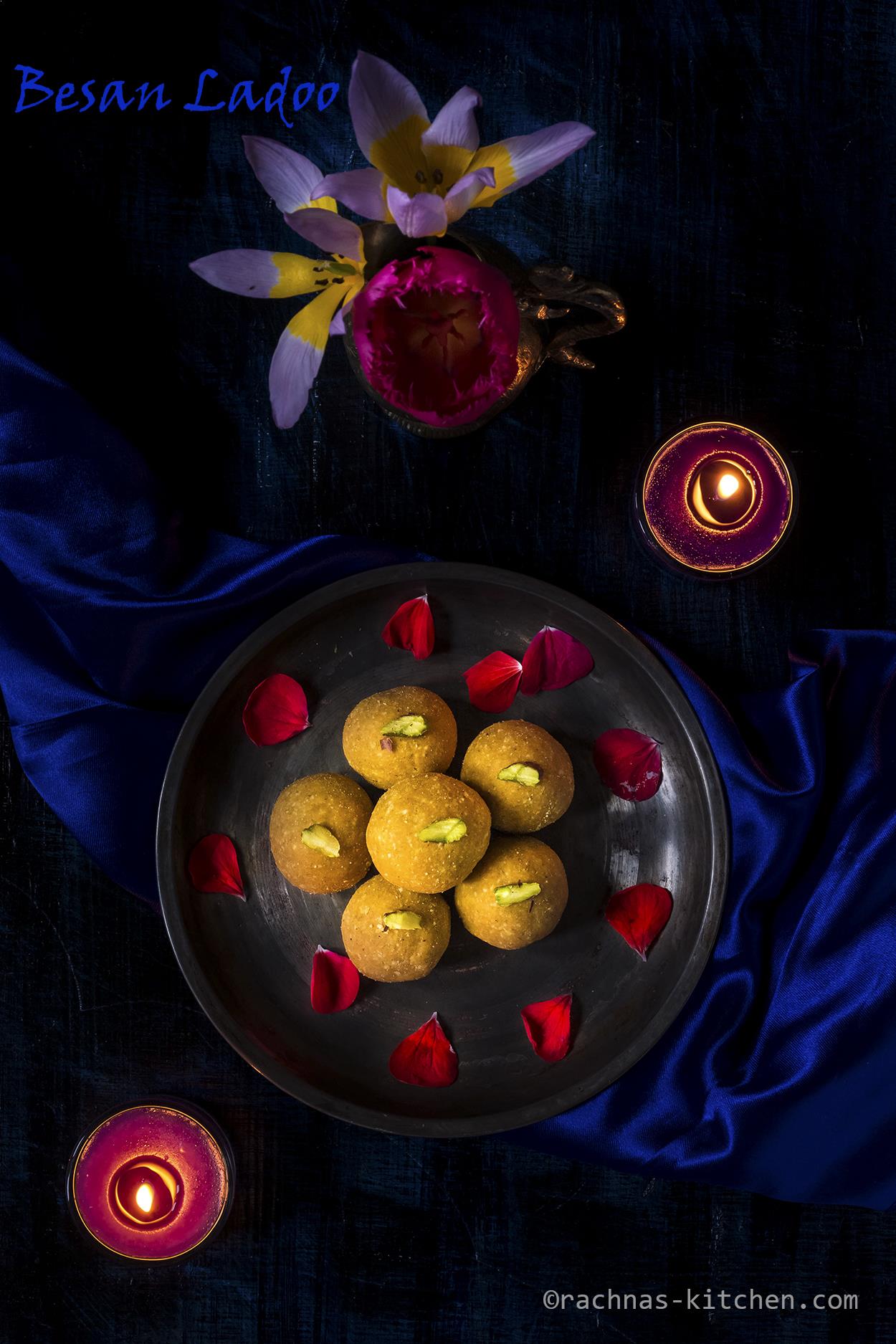 I remember my old school days when I and my friends used to go to the most famous ladoo shop thaggu ke ladoo. We had enjoyed their ladoo a lot. Absolutely Nostalgic !
Coming to the recipe, I have tried to prepare these ladoo many times after I got married but never got the perfect market style Punjabi besan ladoo. I didn't give up and kept trying.
Here I will discuss my trials and outcome.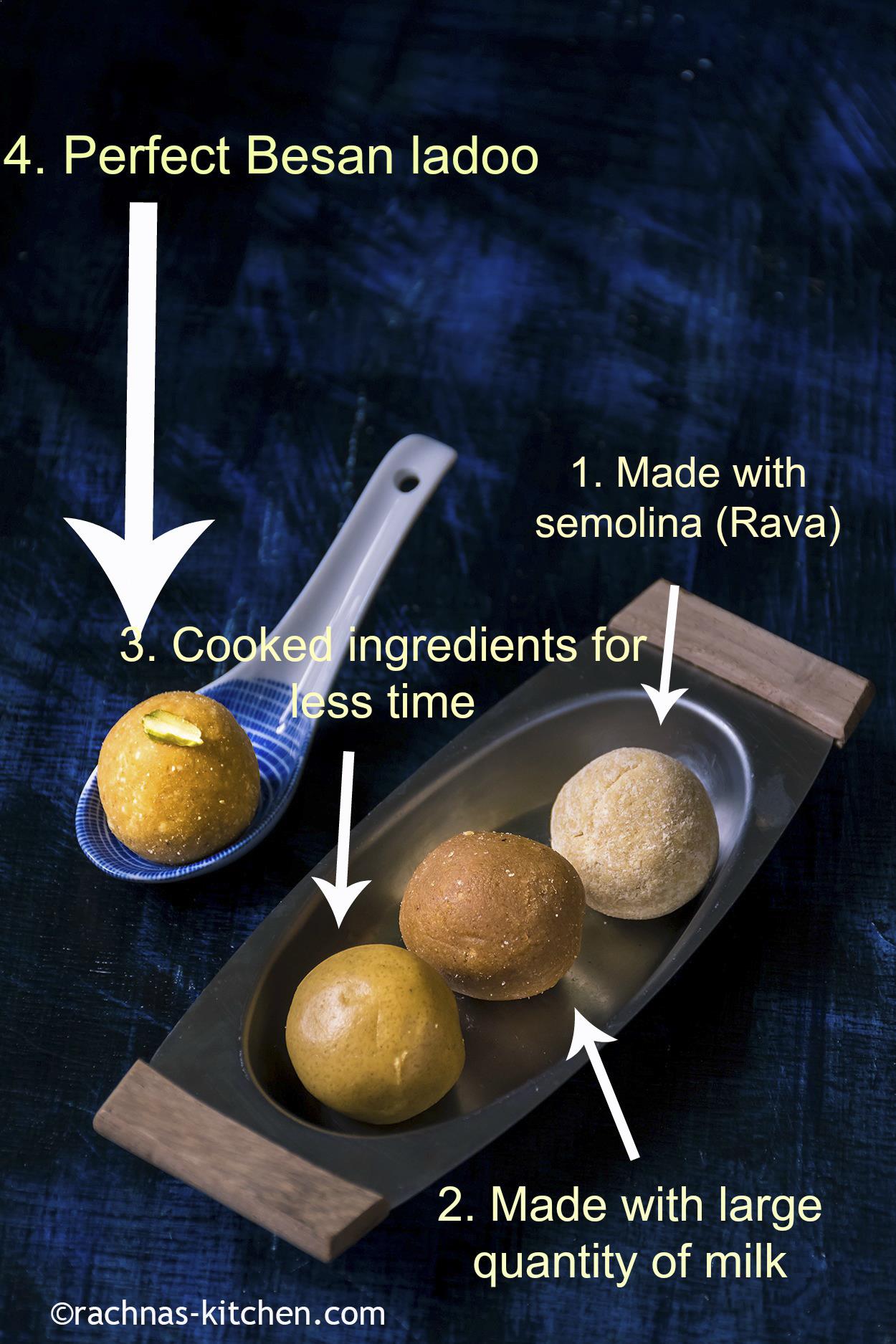 1. Light brown besan ladoo – In this trial, I used semolina also known as Rava or suji  and almond powder in besan ladoo recipe. This trial was not complete failure, use of almond powder turned out it delicious but it was not real taste of besan ladoo.
2. Dark brown besan ladoo – In this trial, the taste was not good. The only mistake I did was used much more milk than required. So the ladoo became wet.
3. Light yellow smooth besan ladoo – This trial was fully failed. I was bit impatient and made ladoo too early without cooking ingredients for enough time.
4. Yellow, grainy and perfect round shape – This trial was successful. I got the perfect grainy texture like we get in market style besan ladoo. Perfect Besan ladoo is never smooth and shiny. If you have ever tasted it in India, you can relate me.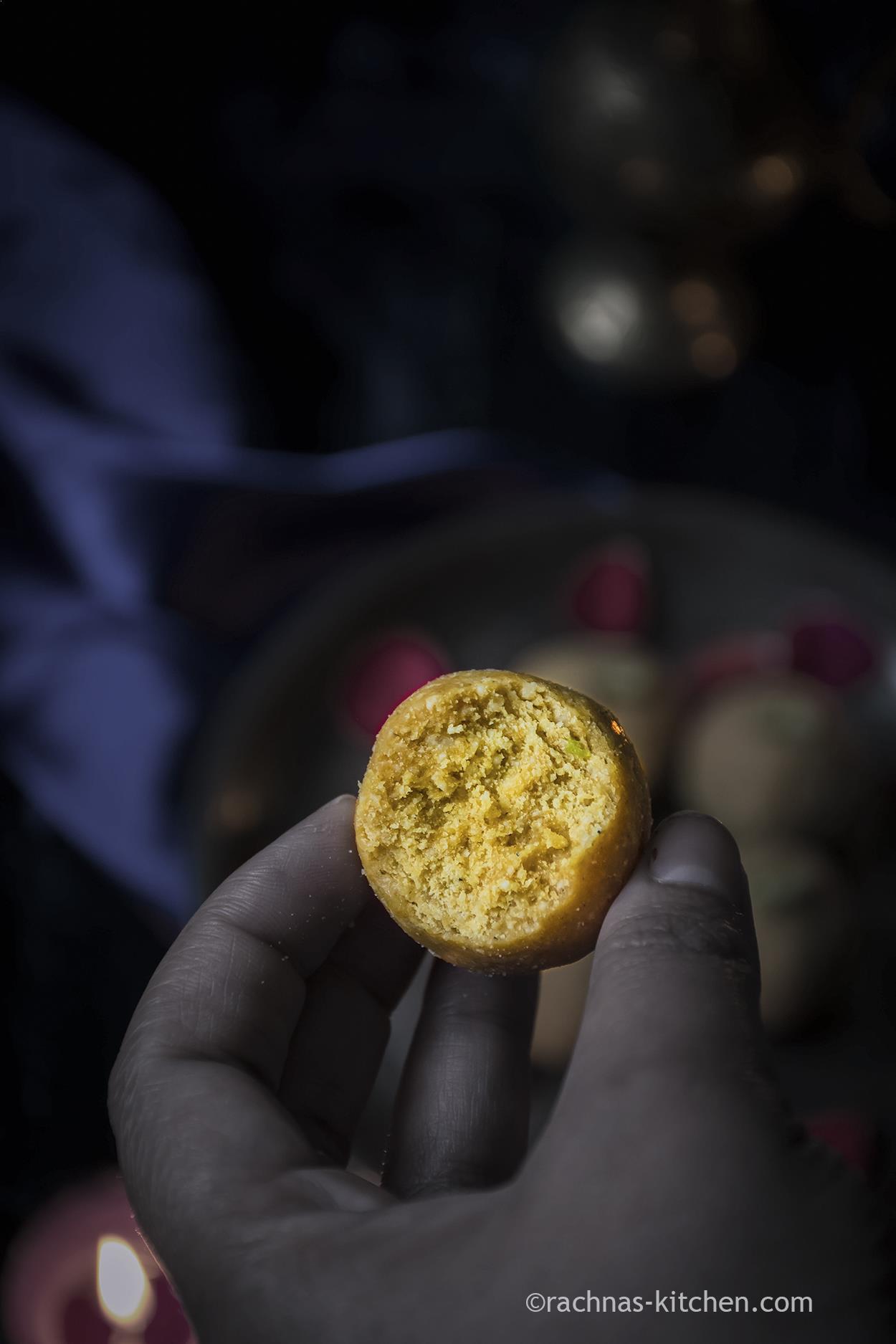 After few trials, I got this perfect besan ladoo recipe.
One secret behind success of this recipe is Boora sugar which is also known as Tagar.  I would recommend to use this sugar to get the perfect besan ladoo. It takes few additional minutes more to prepare it.
Another secret ingredient is milk. When forming ladoo the mixture becomes dry which makes  difficult to shape them. At that time use warm milk. Don't worry it will not spoil ladoo.
They can be stored for at least 10 days. In India, halwai uses the huge amount of vegetable ghee and oil to shape them, which results into an unhealthy besan ladoo.
This Punjabi besan ladoo recipe is full proof, gather ingredients and the patience, and get ready to prepare it. Let's see the recipe now.
Ingredients
Besan – 1 cup
Ghee – 2 tablespoon
Boora sugar – ¾ cup or 1 cup
Milk – 3 teaspoon
Cardamom powder – ¾ teaspoon

Step by step Punjabi besan ladoo recipe
Step 1. Place a large non-stick pan on low heat and add the ghee to melt.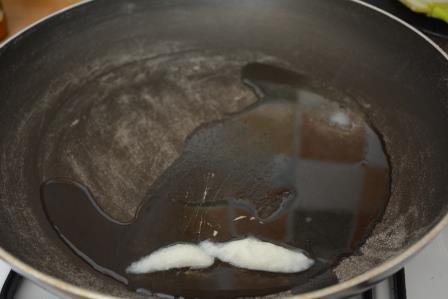 Step 2. Once the ghee is warm not hot, add the besan (chickpea flour).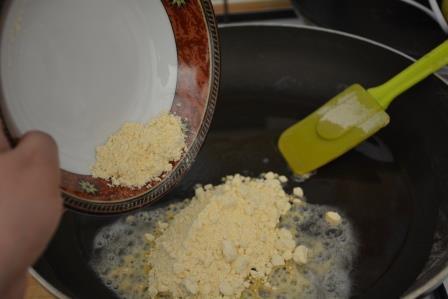 Step 3. Cook this mixture on low-medium heat while stirring intermittently. The ladoo mixture is done when it looks golden and smells toasty and nutty. This will take 25-30 minutes. Look at the pictures to see the different stages of the mixture cooking, and how it looks when its done.
After 7 minutes of cooking the texture of flour has turned grainy.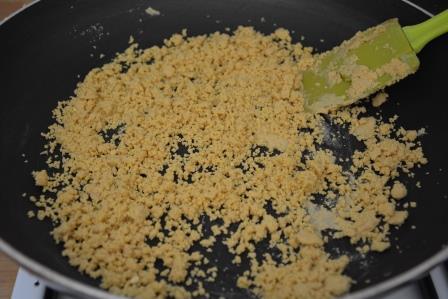 Then it will start releasing ghee and loosens up a bit.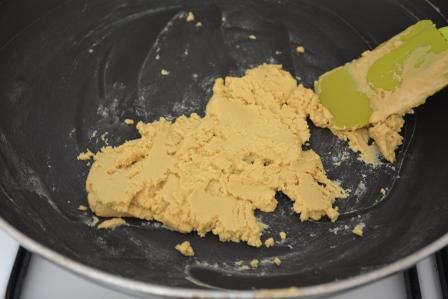 Then it will change colour from light brown to dark brown. To reach this stage it took me exact 25 minutes. The aroma of chickpea is very strong. Be patient, DO NOT increase the heat.
When the ladoo mixture smells toasted and looks golden, it will start releasing ghee and will give a nice fragrant aroma. There are two signs which tells you besan is cooked i.e. nutty fragrance and besan will release ghee so wait for these two signs before adding sugar in next step. When the mixture is cooked, turn off the heat.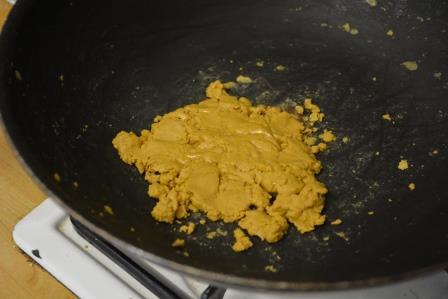 Step 4. Let it get cool for around 5 to 6 min or till you can touch the mixture with palm. Mixture should be little warm when you try to make ladoo. Add cardamom powder.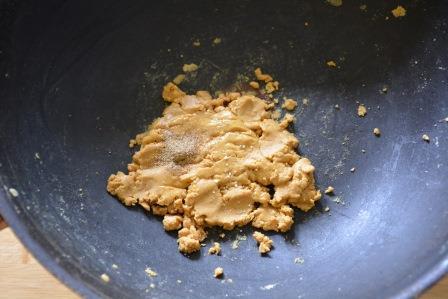 Step 5. Add Boora sugar and mix well. Taste the mixture.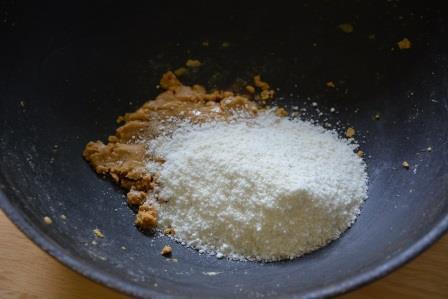 Step 6. Gather about 2 tablespoons of the mixture in your palm of your hands, and press it to form a ball. If the mixture is too dry and wont form balls, or if the balls crack or don't hold together, you need to add milk. Add 1 teaspoon of milk and mix well.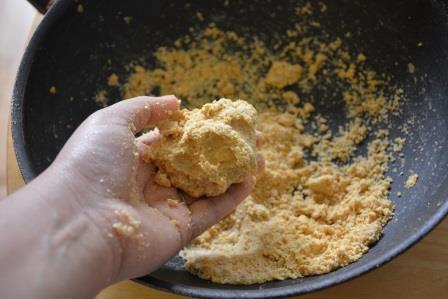 Now try to form balls again. Keep doing this till you can form the mixture into balls.  And make sure you don't add so much milk that the ladoos become wet. That's what I did in 2nd ladoo trial, I have explained above.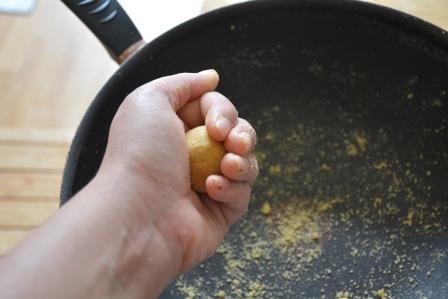 When the ladoos are shaped, press pistachio flakes to decorate it (optional). Store ladoo in an air tight container, they will taste fresh for a 10 days.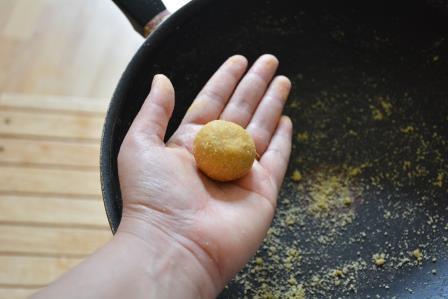 Enjoy the delicious besan ladoo !
Recipe card – Besan ladoo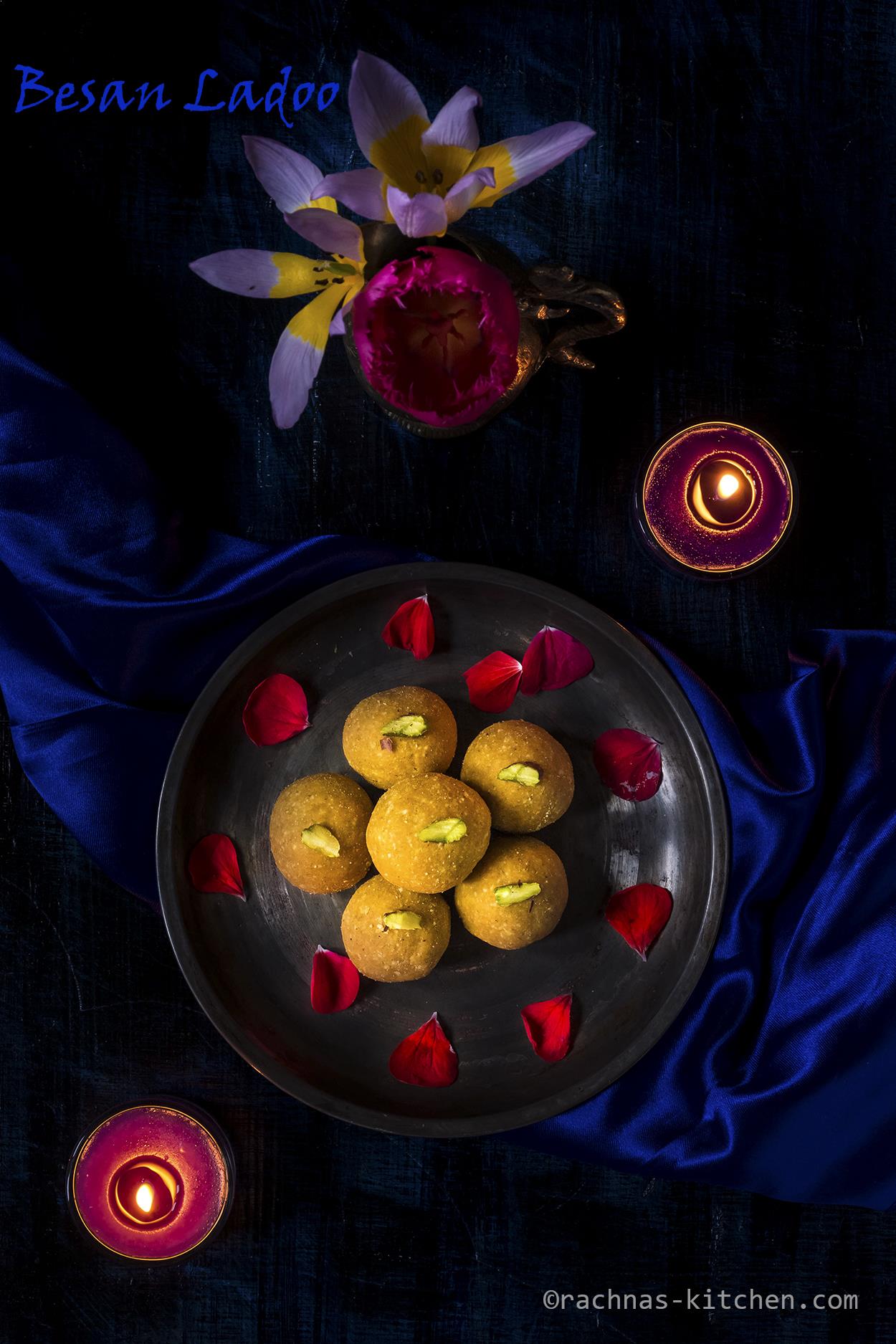 Punjabi Besan Ladoo Recipe, Recipe for Besan Ladoo
Punjabi Besan ladoo is a famous Indian dessert, they are the lemon size ball shape sweetmeat made up of aromatic gram flour also known as chick pea flour with sugar and ghee. They are grainy and matt in texture.
Servings
:
8
medium sized besan ladoo
Ingredients
Besan – 1 cup

Ghee – 2 tablespoon

Boora sugar – ¾ cup or 1 cup

Milk – 3 teaspoon

Cardamom powder - ¾ teaspoon
Instructions
Place a large non-stick pan on low heat and add the ghee to melt.

Once the ghee is warm not hot, add the besan (chickpea flour).

Cook this mixture on low-medium heat while stirring intermittently. The ladoo mixture is done when it looks golden and smells toasty and nutty. This will take 25-30 minutes. Look at the pictures to see the different stages of the mixture cooking, and how it looks when its done.

After 7 minutes of cooking the texture of flour has turned grainy.

Then it will start releasing ghee and loosens up a bit.

Then it will change colour from light brown to dark brown. To reach this stage it took me exact 25 minutes. When the mixture is cooked, turn off the heat.

Let it get cool for around 5 to 6 min or till you can touch the mixture with palm. Mixture should be little warm when you try to make ladoo. Add cardamom powder.

Gather about 2 tablespoons of the mixture in your palm of your hands, and press it to form a ball. If the mixture is too dry and wont form balls, or if the balls crack or don't hold together, you need to add milk. Add 1 teaspoon of milk and mix well. Now try to form balls again. Keep doing this till you can form the mixture into balls.

When the ladoos are shaped, press pistachio flakes to decorate it (optional).

Store ladoo in an air tight container, they will taste fresh for a week