Indian Chickpea Salad Recipe
Indian chickpea salad recipe is an amazing salad recipe which I have tried recently on the request of my hubby. He always adores salad recipes as he is little health conscious certainly more than me 😉
This chickpea recipe is absolutely delicious and healthy. You can have it as much as you want without feeling any guilt of over eating. It is a quick recipe which doesn't need much of the cooking.
It can also be prepared in advance and stored to be eaten next day. In fact, it's even more delicious the next day when the spices have had even more time to intermingle. You can also combine this salad with bread and can prepare chickpea salad sandwich. I am sure kids will love it:-)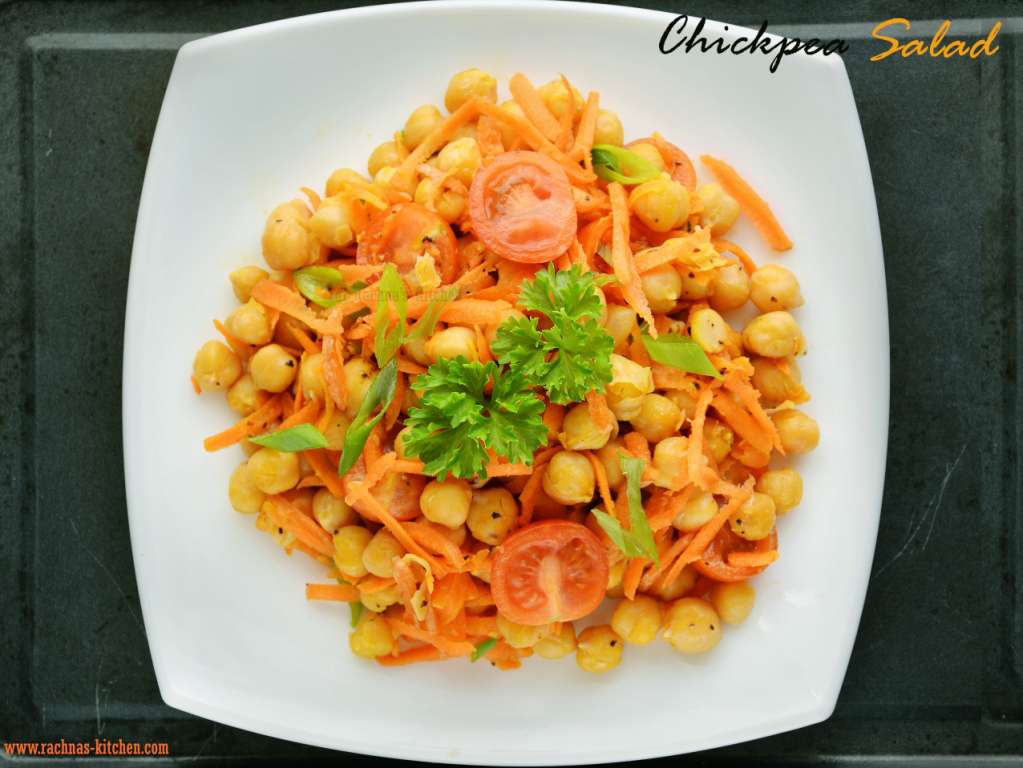 In this chickpea recipe, I have marinated the chickpeas for 1 hour but you can marinate it from 10 minutes to several hours depending on time you got. The more time you give for marination, better will be taste 🙂
As a result of marination, the nutty flavour of chickpeas is infused with aroma of spices. You can then add lemon and carrot to chickpeas to give the piquant flavour of lemon mixed with sweetness of carrots. Gather all the ingredients, top with fresh green onions and chaat masala and mix in a bowl and that is it. Tadaaa !! summer chickpea salad is ready to serve.
This chickpea salad is super duper easy recipe which, feels like, can be made without even opening eyes. I loved it and hope you will like it too. So here is the recipe !!
Recipe card – Indian chickpea salad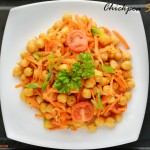 Chickpea Salad Recipe, How to make chickpea salad |Salad recipes
Indian chickpea salad recipe is an amazing salad recipe.
Ingredients
1

cup

Boiled chickpeas

½

cup

grated carrots

fully packed

2

medium sized ripe tomatoes

1

tbsp

lemon juice

1

tbsp

extra virgin olive oil

½

tsp

Honey chili sauce

¼

tsp

cumin powder

¼

tsp

black pepper

freshly ground

¼

tsp

Italian mixed herbs

optional

A few leaves of parsley or coriander

½

tsp

chaat masala

optional
Instructions
First heat ½ tsp of olive oil in a shallow pan on a medium flame.

Saute the boiled chickpeas for a 2 minute. I like sauteed chickpeas in my salad.

Once chickpeas are sauteed, transfer them to a mixing bowl.

Now add rest ½ tsp of olive oil and all other ingredients.

Combine it well and leave for at least 10 minutes to marinate.

This helps spices to intermingle nicely.

Garnish with parsley leaves and green onions

Serve it.
Recipe Notes
You may adjust spices according to your taste. This recipe is high on pungency.
There is no hard and fast rule, you may add more veggies available in your kitchen.