Chocolate walnut cake
Want to make some thing special yet healthy for this valentine day. Here comes egg free, gluten free, butter free, dark chocolate protein cake recipe. Yes it's full of goodness and can have it without guilt. This protein loaf cake is high in protein, low in fat and yes it's vegan. Have you seen my slurping no bake chocolate protein bar recipe, eggless chocolate chips cookies  and vanilla cake in a minute. It 's really delectable.
There are some other eggless recipes available on my blog.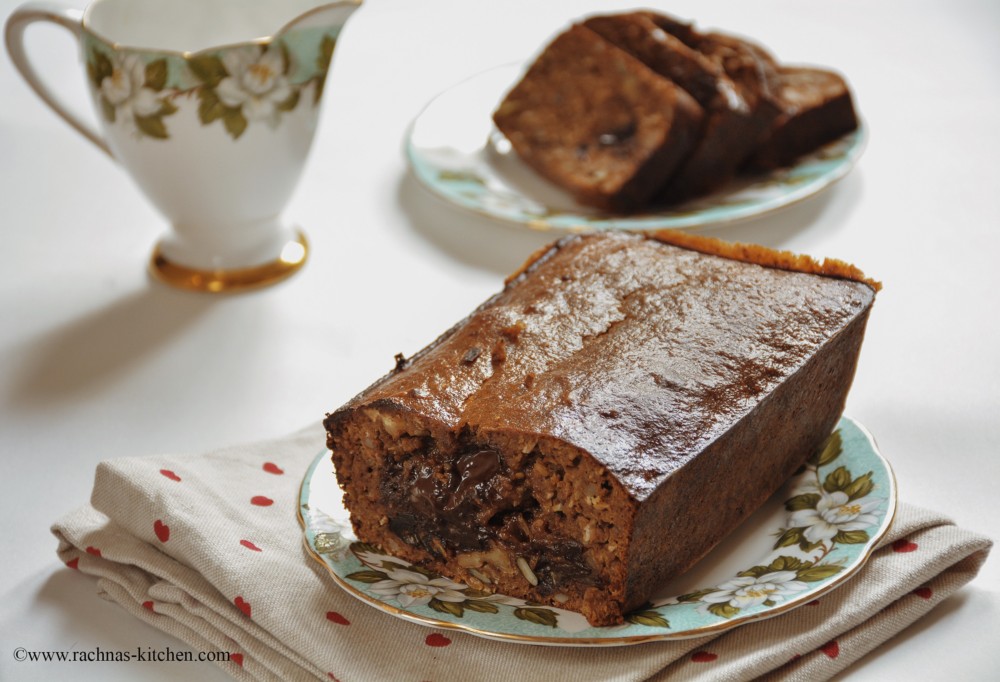 In this recipe, I have replaced eggs with chickpea brine. Chickpea brine is nothing but aquafaba which generally refers to the liquid in a can of chickpeas, and is a revolutionary new vegan egg replacer.  For this chocolate walnut cake, you don't even need to beat the liquid. Just add it straight.
I have used Greek yogurt that makes cakes really moist.  I love that texture. This chocolate walnut cake is rich, decadent, moist and staunchly chocolaty. You can replace Greek yogurt either with vegan yogurt or with apple sauce to make it.
Also used pitted dates and honey as sweetener in this recipe. You can go with any sweetener which you prefer.
To make it more in nutritious I have used pumpkin and sunflower seed mix and walnuts.
Let's come to the recipe.
WP Recipe Maker #11247

remove

Eggless chocolate walnut cake

Want to make some thing special yet healthy for this valentine day. Here comes egg free, gluten free, butter free, dark chocolate protein cake recipe. Yes it's full of goodness and can have it without guilt. This protein loaf cake is high in protein,low in fat and yes it's vegan.

Course: Dessert

Cuisine: International

Prep Time: 10m

Cook Time: 30m

Total Time: 40m

Servings: 1 Loaf

Author: Rachna's Kitchen

– ½ cup greek yogurt or apple sauce

– ¼ cup + 2 tablespoon honey

– 5 tablespoon chickpeas brine

– 2 teaspoon vanilla essence

– 1 cup oats grounded

– 1 cup pitted dates

– 3 scoop protein powder

– 1 tablespoon cocoa powder

– ¼ cup desiccated coconut

– 1 teaspoon baking powder

– ½ teaspoon lemon juice

– ¼ teaspoon salt

– 8 – 10 pieces chocolate chunks

– 2 tablespoon Pumpkin seeds

– 3 tablespoon roughly chopped walnuts

1) Preheat the oven to 180℃.

2) Grease a loaf tin lightly with olive oil spray or you can also line the tin with butter paper.

3) Place pitted dates to mixer grinder and add water.

4) I have added water to reduce the calories in recipe but if you wish you can replace water with milk.

5) Grind it to thick paste consistency. Take it out in a bowl.

6) In a separate bowl add wet ingredients chick pea brine, yogurt, honey and vanilla essence. Whisk it to mix together.

7) Add the date mixture. Mix again.

8) In a separate bowl sieve dry ingredients together protein powder, cocoa powder, baking powder and salt.

9) Then add grounded oats, desiccated coconut, chopped walnuts and seed mix.

10) Now in the wet mixture add dry mixture in and mix it slowly. Consistency should be lumpy and thick.

11) Pour half of the batter into the prepared loaf tin. Place chocolate chunks. Now cover the chocolate chunks by pouring the rest of batter. Even the top.

12) Bake it at 200 celsius for 5 minutes and then bake it for 25 minutes at 75 degree celsius until risen, and a skewer inserted in the centre comes out clean.

13) Remove and cool on a wire rack before turning out.

14) Cut the delicious protein cake into slices with ice cream or a cup of tea.

serving_size 136

calories 125

carbohydrates 16.8

protein 8.8

fat 3.2

cholesterol 19

sodium 81

potassium 278