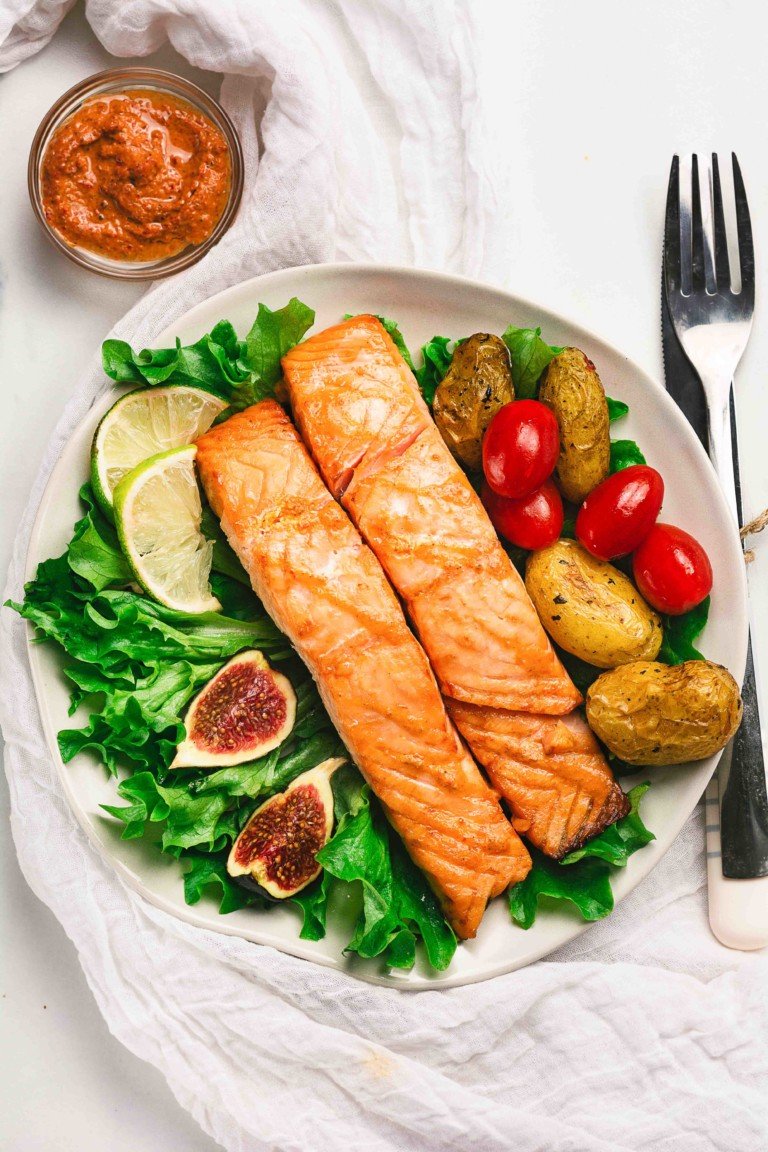 The days are getting short and nights chilly. Yes, its winter is here with freezing cold weather in London. However even in this times of the year, the world is full of exotic and warm weather locations where you can take a trip to take break wintery glooms. My favourite location is Goa, while you can find more beautiful places here at  Where Is Hot? Goan beeches and fish curry, no one can say no to them. But this time I am more in mood of a grilled fish recipe with a Goan touch to it. In winters, I love enjoying food as compare to cooking. Today I have come up with a delicious fish recipe that is 'Grilled Salmon with Goan Recheado masala, baked potatoes and green salad'. Its name maybe really long 😉 But it's very easy to prepare, perfect anytime dinner that keeps well in the freezer, cooks quickly, and takes on flavors beautifully.
Salmon is a delicious fish which is actually good for health too. It is rich in omega-3 fatty acids, which help to reduce LDL (bad) cholesterol.
Some interesting facts about Salmon you may like to read
It contains a lot of proteins, vitamin D and omega-3 fatty acids.
Salmon is born in freshwater, which then migrates to saltwater to mature and then again returns to freshwater to spawn. So it is an anadromous fish.
Salmons rely on the sense of smell, ocean currents and moon to find waters where they were born.
Salmon can be found in variety of colours. It can be blue, red or silver in color. Some may have also black spots and red stripes.
Spawning is deadly for Salmons. Yes, most salmons die as a result of exhaustion after spawning.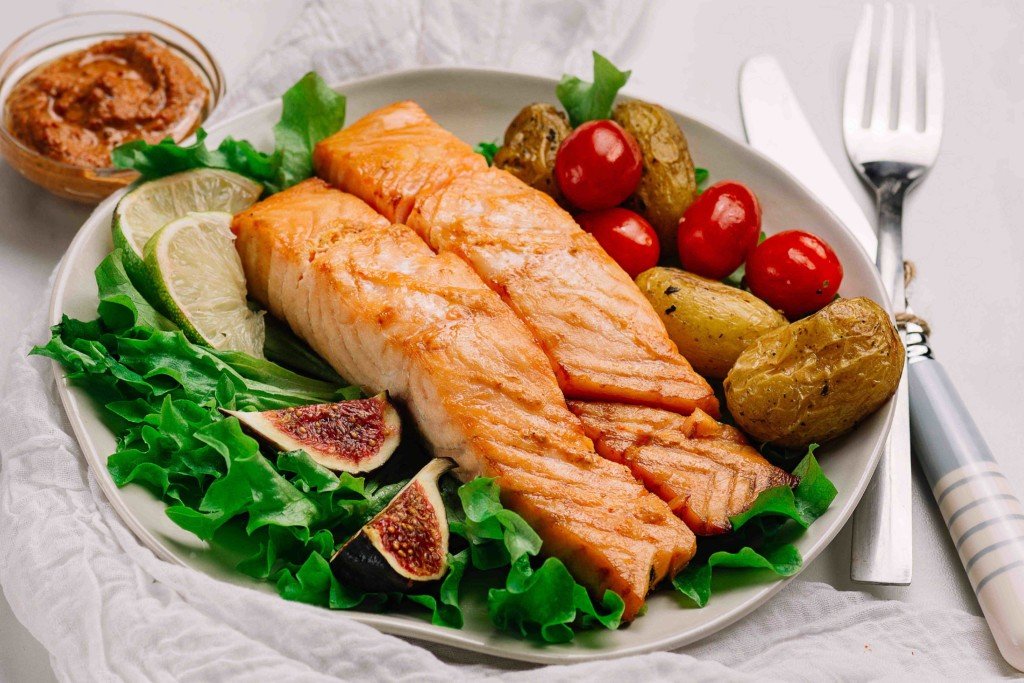 Coming to the recipe, I have grilled salmon with minimal seasoning as I served these with bold and spicy homemade Recheado masala. Recheado masala is one of the popular goan masala. It is a red pastemade mainly with kashmiri red chilies, spices, ginger, garlic and vinegar.
In Goa, Recheado Masala is more commonly served with dishes of Mackerel(an Indian variety), Squids, Prawns. But I have paired salmon with it and the taste was awesome. My family really enjoyed it with green salad and baked potatoes.
Below I have given the recipe instructions for making both Recheado Masala and preparing Grilled Salmon.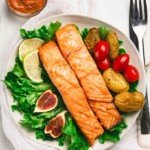 Grilled salmon With microwaved new potatoes
Goan beeches and fish curry, no one can say no to them. But this time I am more in mood of a grilled fish recipe with a Goan touch to it.
Ingredients
1

pound

salmon fillets

skin on

1

teaspoon

Vegetable or canola oil

A

pinch

Fine sea salt

A

pinch

Freshly ground black pepper

A

few

Lemon wedges
For microwaved potatoes
175

grams

salad potatoes

2

tablespoon

water

25

grams

25 g softened butter mixed with 2 tbsp finely chopped fresh herbs
For Green salad
A

few

Lettuce leaves

A

few

cherry tomatoes

A

Fig
Instructions
Grilling Salmon
Heat a grill, to medium-high heat.

While the grill heats, prepare the salmon fillet. Rinse and pat them dry. Brush the skin with oil. Sprinkle both sides with salt and pepper to season.

Brush the cooking grate with oil. Place the salmon, skin-side-down on the grill and cover.

Cook, undisturbed, until the salmon just starts to release its fat. It will also begin to change color and become flaky. Takes about 10 to 15 minutes.

Use a spatula to remove the fish from the grill.
Microwaving potatoes
Place the potatoes in a microwaveable dish with 2 tbsp of water and butter.

Cover and cook on full power (900w) for 7-8 minutes.

Allow to stand for 1-2 minutes before serving.
Prepare green salad
Prep lettuce leaves by cleaning them under running water. Wash cherry tomatoes and fig also.

Keep them aside and use while plating.
Assembling the recipe
In a dish take out salmon fillets, microwaved herbed potatoes and green salad. Garnish with rechedo masala or just keep along as a side dip.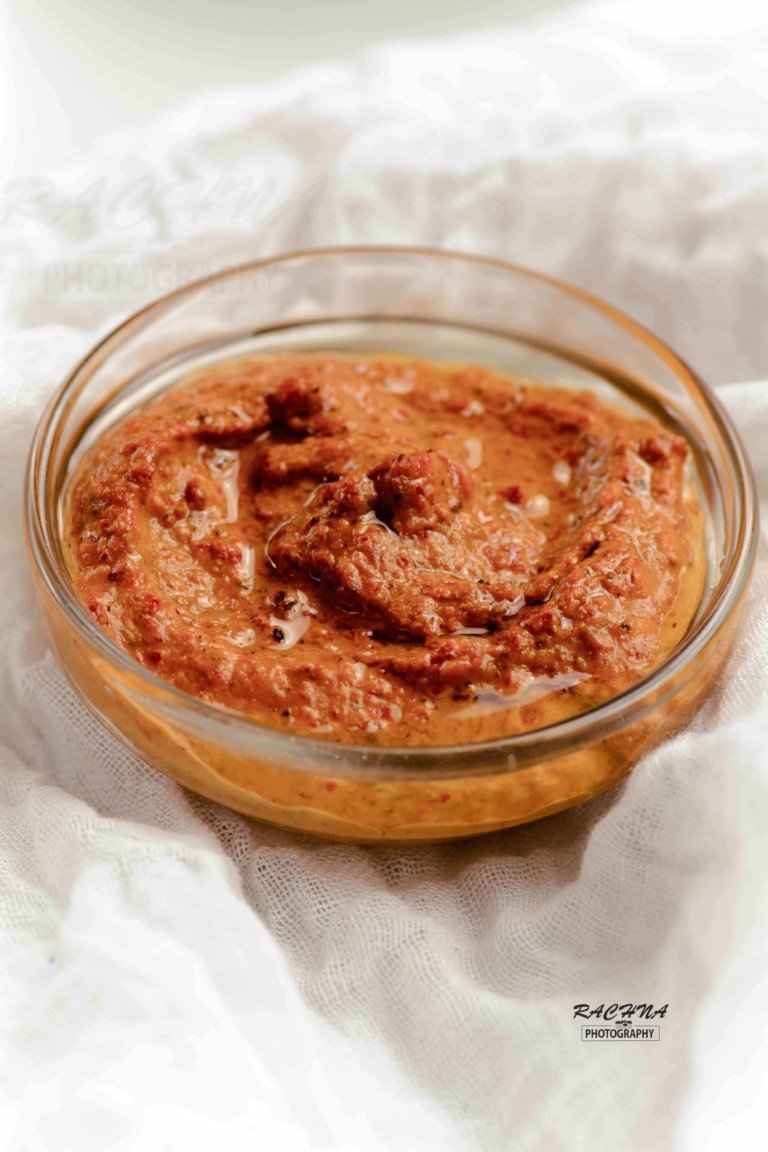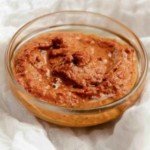 Goan Recheado Masala
Goan beeches and fish curry, no one can say no to them. But this time I am more in mood of a grilled fish recipe with a Goan touch to it. Recheado masala is authentic Goan recipe.
Ingredients
6-7

large garlic cloves

1/2  

inch

ginger root

1/4

teaspoon

black peppercorn

5- 6

cloves

3

tablespoons

tamarind pulp

1/4

cup

Goan vinegar or white distilled vinegar

1/2

cup

Feni

Skip , if you don't have, If using it, then reduce the vinegar to 1/2 cup -optional

3

tablespoons

sugar

1

teaspoon

salt

1

tablespoon

vegetable oil

1/2

cup

purified water or as required
Instructions
Prepare garlic and ginger by peeling and chopping them into small pieces.

Discard the stalks of the chillies, and deseed half of them. As the seeds increase level of spiciness so it is individual preference to keep them or discard.

In a mixer/grinder, add all the ingredients except the water, pulse everything, add water gradually as required, to make a very smooth but thick paste.

Then heat a pan on medium heat and add oil. Add the grounded mixture, sauté about a minute.

Let it cool down before serving.
Disclosure: This is a sponsored collaboration with Thomas Cook Airlines.

Thank you Thomas Cook Airlines for this beautiful apron.