Republic day is one of the most important days celebrated in India. It's a proud moment for Indians because it denotes the power, democracy and freedom of our country. It is celebrated every year on January 26 to honour the date on which the Constitution of India came into effect in 1950. This year marks the 69th republic day.
When I was living in India, I remember that in my school there used to be a Marching Parade, flag hoisting and celebration would end by special meals for us and guests. I still recollect all memories when this day comes.
Now being a grown up the celebration ritual is slightly changed but sense of pride and love for our own land is only increased. One of the best ways to celebrate republic day is watching the grand parade held at the Rajpath in Delhi.
This year republic day 2018 will be more interesting to watch because Leaders from the 10 ASEAN nations listed below will be the chief guests along our India's prime minister Narendra Modi.
Thailand
Vietnam
Indonesia
Malaysia
The Philippines
Singapore
Myanmar
Cambodia
Laos and Brunei
Without delicious dessert no celebration is complete. So I have made tricolour tart for this celebration. For this you may use home-made tart shell or a store-bought tart. Few other notes are specified under the recipe.
Republic day Special Tricolor Tart Recipe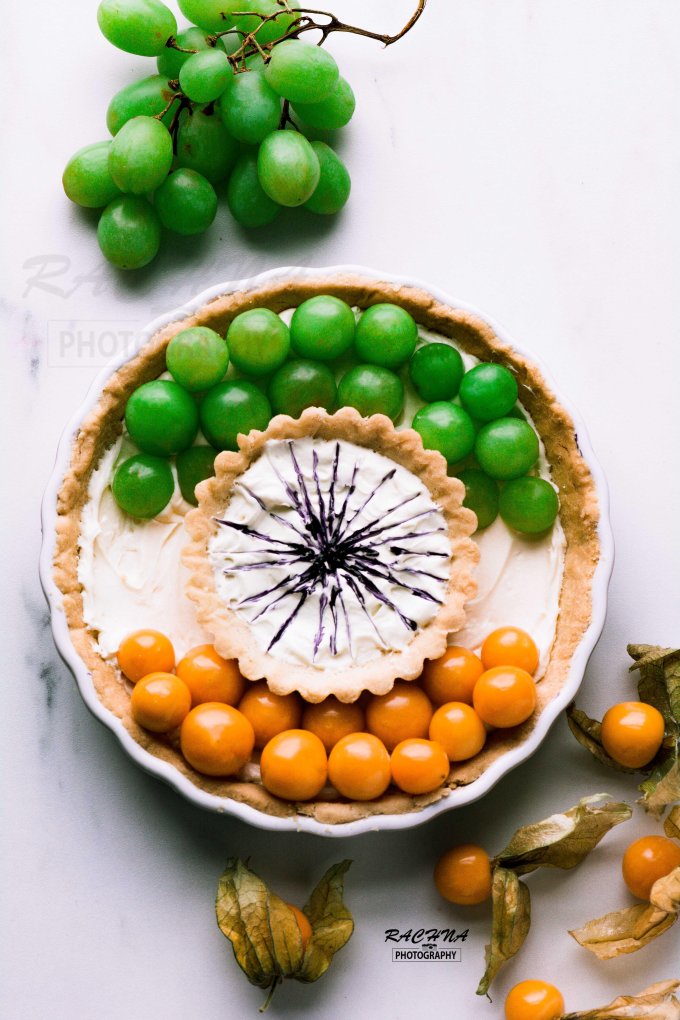 India Republic day Tricolor Tart Recipe
I have made tricolour tart for this celebration. For this you may use home-made tart shell or a store-bought tart.
Ingredients
1

pre baked tart shell

home made or store bought

1

small pre baked tart shell

1/2

cup

mascarpone cheese

1/2

teaspoon

vanilla essence

3

tablespoon

fine sugar

1

cup

green grapes

1

cup

physalis

rasbhari

1

drop blue gel colour
Instructions
Remove the pre baked tart shell from the packaging and place on the counter.

Clean and wash grapes and physalis. Keep aside.

Preparing Cream: In a mixing bowl, take out mascarpone cheese. Add in vanilla essence and sugar.

Whip the mixture with hand whisk till it incorporates.

Spoon the cream mixture all out into the both pastry base, smoothing with a spatula or a palette knife.

Decoration: In the small tart make 24 lines using blue gel colour. Place the small tart in the center of big tart.

Place green grapes on upper side of big tart and physalis on another side giving the shape of Indian flag.

Refrigerate for at least 1 hour before cutting and serving.

Enjoy !