Watermelon Juice
Recipe

Watermelon juice is an easy and delicious juice recipe. It takes very less time and doesn't need any juicer machines. It can be easily prepared with a blender.
Beat the heat this summer with this tasty, wonderful and healthy juice recipe. Having it  will quench the thirst in healthy way and help you stay away from juices & drinks made from artificial ingredients.
Health benefits of watermelon juice 
There are many health benefits of watermelon juice  but most important point I want to highlight are given below-
The beautiful red colour of watermelon is because of LYCOPENE which is an antioxidant agent. It prevents our skin from ultraviolet rays.
If you are on the weight loss diet then this watermelon juice is brilliant recipe to add to diet. Watermelon contains amino acids which helps in weight loss.
Watermelons are rich in vitamins and minerals.
Apart from these major benefits, watermelons have many other health benefits for anti inflammation, kidney health, and many more .

How to choose good quality watermelon for juice
Look for dull not shiny – Watermelon which have shiny skin is unripe so go for dull skin.
More heavy more ripe– Follow this tip, lift the watermelon,  more heavy means it's full of water.
Look for field spot– If watermelon has yellow spot , it means it is ripened in sun in field rather than the ones which got white spot, It means it was picked too early hence not ripe.
Knocking method– In this method people knock the watermelon with their knuckles to hear the sound but unfortunately I don't understand this method, so can't explain this 🙁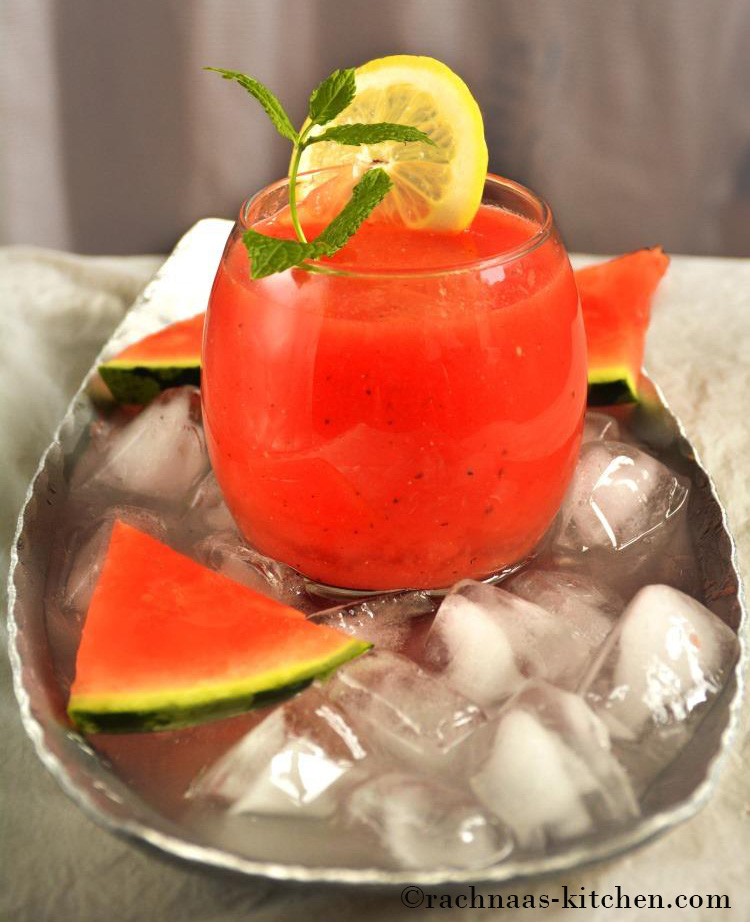 Now let's talk about the recipe. Watermelon juice recipe is no rocket science, it is darn easy. Cut the watermelon in pieces, pulp out in a dish and blend it with few ingredients. It's done. Isn't it easy ?? It takes me about 5 – 8 minutes to prepare. For people following weight loss diet, having a full glass of watermelon juice before meal provides hydration, nutrition and few calories. I love it:-)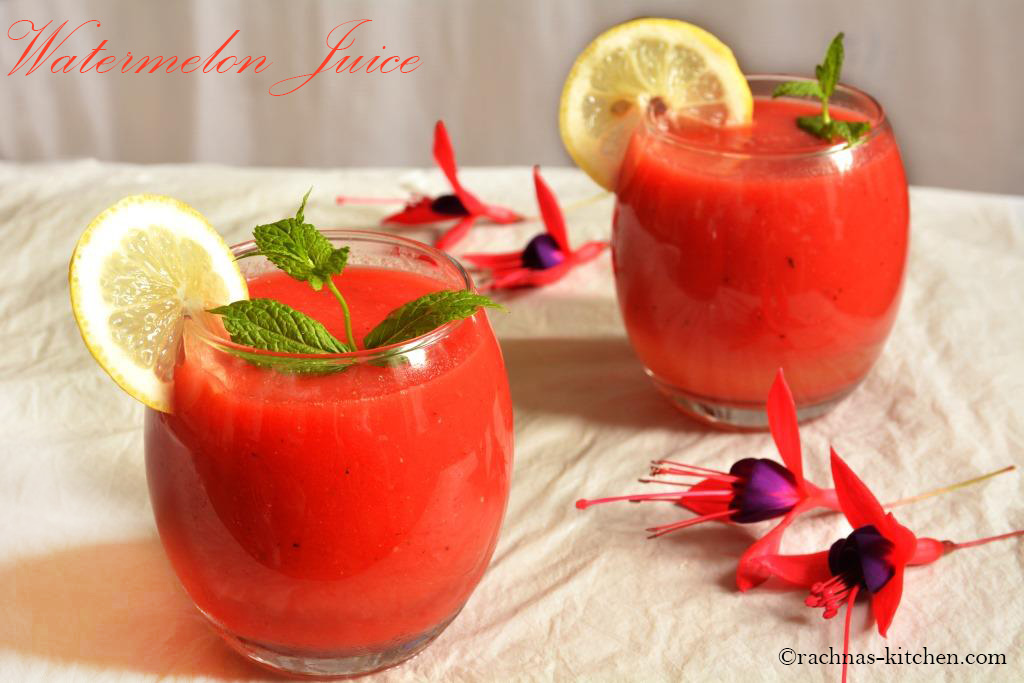 If you are looking for drinks recipe You may like Mango milkshake, Thai iced tea and blueberry mojito recipe.
Recipe card – watermelon juice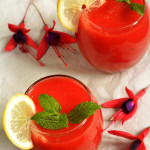 Watermelon Juice, How to make watermelon juice | Watermelon Juice Recipe
Watermelon juice is an easy and delicious juice recipe. Beat the heat this summer with this tasty, wonderful and healthy juice recipe.
Ingredients
• 2 cups seedless watermelon

• 1 teaspoon fresh lemon juice

• 1 ½ teaspoon cane sugar or adjust to taste

• A pinch of salt

• Ice cubes

• Lemon wedges for garnish

• A few mint leaves for garnish
Instructions
Add watermelon in a blender jar and pulse it.

Add the lemon juice, salt and sugar to the blender and blend it for 2 minutes.

Once everything gets blend, you can put it into refrigerator if you are going to serve later.

If serving instantly, grind few ice cubes with the mixture in above step.

Strain juice with the strainer if required.

Serve the juice with mint leaves and lemon wedge as garnish.
Recipe Notes
You can make this recipe for fasting but omit the addition of salt.
Deseed the watermelon with the help of fork or grind it all together and later you can sieve it with a strainer to get rid of seeds.