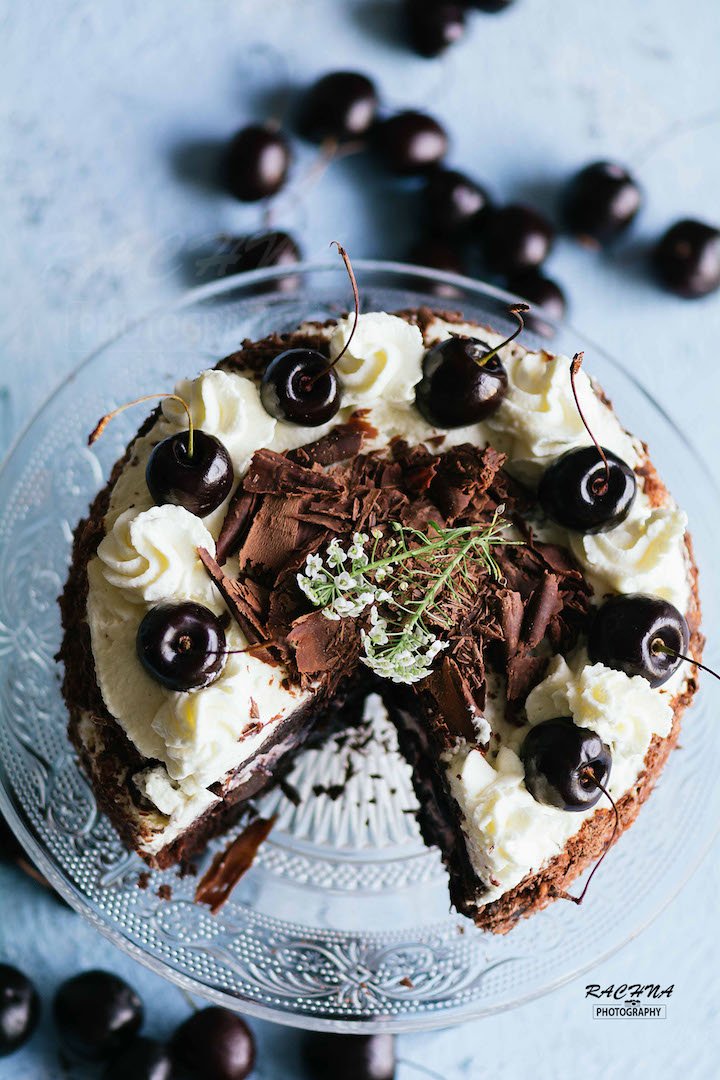 Eggless black forest cake or black forest gateau, is moist and golden brown in colour, is made up of lot's of cherries. Back in nineties, when first time I had this cake, I cannot forget that taste, it was super fluffy, full of chocolate and the bright red cherries were really the icing on top ;-).  As a kid I was amazed by its name " black forest cake". That cake was not eggless. I think at that time eggless cake concept may not exist.
I did some research online about the cake and I got very interesting facts which I want to share with you.
Based on history of the Black Forest Cake from the Cafe Schaefer web site: Josef Keller (1887-1981) is the inventor of the Black Forest cherry cake. Keller was the pastry chef in the Cafe "Ahrend" (today called Agner) in Bad Godesberg in Germany.  It's name was "Schwarzwaelder Kirsch", or "Black Forest Cherry".
In other story, it is believed that this cake got its name from the traditional costume worn by women in the Black Forest.  The dress was black (just like the chocolate flakes), the blouse is white (like the cream), and the hat has red pom-poms that look just like cherries. Source – Wikipedia
Meanwhile you may also check my eggless chocolate cake with condensed milk, eggless apple upside down cake, mawa cake recipe, eggless banana cake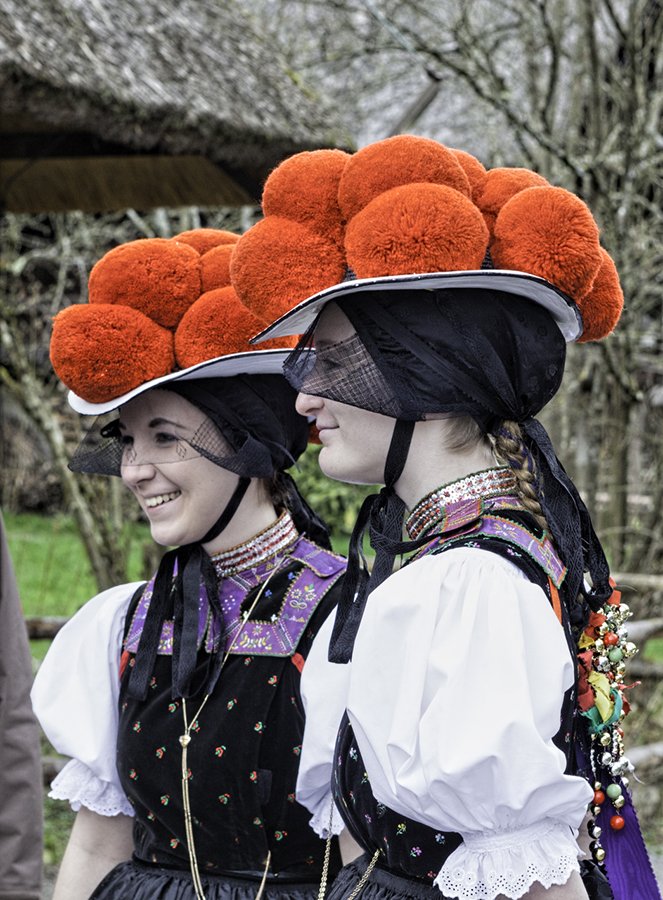 Image source Wikipedia
Traditionally this black forest cake is made up of several layers of chocolate sponge cake, cherries, and whipped cream.  It is frosted with whipped cream and covered with chocolate shavings and a few cherries for decoration. Kirschwasser cherry liquor is used to flavor the whipped cream and brushing the sponge.
I have adapted this recipe to make eggless version so made few changes to process and ingredients.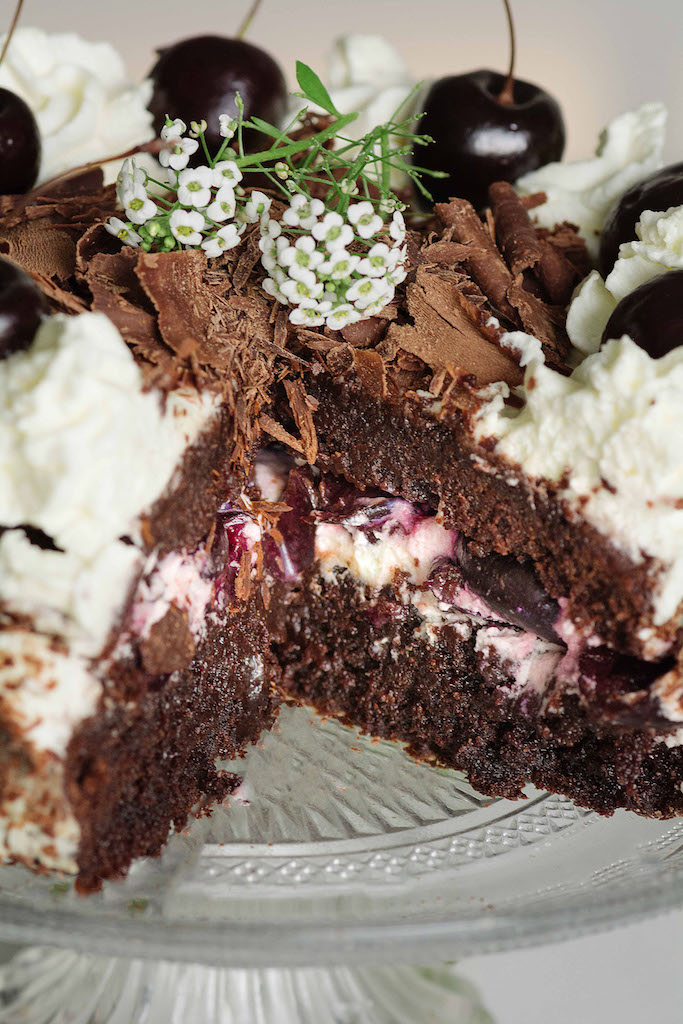 To make cake sponge I have adapted recipe from my eggless cake recipe without condensed milk recipe. Replaced Kirsch (cherry liquor) with cherry sauce prepared at home. I have attached pictures below.
I have used fresh cherries for cake but if they are not available you can use canned cherry and its water can be used to replace  cherry sauce.
In the frosting part it is desired to used half an inch thick whipping cream layer.
At home I love my cakes naked means crumb coated. If you wish fully coated whipped cream black forest cake, you can crumb coat it first then refrigerate cake for 20 – 30 minutes. Take it out, put a big dollop of cream and spread it on top as well as on sides using a big knife/palette knife.
Note – For clean finishing, take a bowl and fill it with hot water. Every time you smooth cake with palette knife, dip knife in hot water and wipe once on tissue and smooth the cake again.
Last point,  you may notice that I have cooked this cake variably at high temperature 200 celsius instead of 180 celsius. This is because the sugar used in this sponge is less and there are no eggs used, so it needs higher temperature to cook properly. If recipe with eggs baked at this temperature it can turn the cake rubbery.
Eggless black forest cake video recipe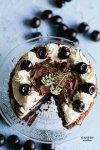 Eggless black forest cake
Eggless black forest cake or black forest gateau, is moist and golden brown in colour, is made up of lot's of cherries.
Ingredients
Dry ingredients.
150

grams/1 1/4 cup

all-Purpose flour 

180

grams/1 cup

white sugar

50

grams/½ cup

cocoa powder

3

grams/½ teaspoon

baking powder

¼

teaspoon

baking soda

3

grams/½ teaspoon

salt
Wet ingredients
80

ml/1/3 cup

melted butter 

330

ml/1 1/3 cups

milk

13

ml/1 tablespoon

vinegar

7

ml/1/2 tablespoon

vanilla extract
For cherry syrup
150

grams

fresh cherries with pits

50

grams

sugar

175

ml

3/4 cup water
For whipped  cream
300

ml/1 1/4 cup

whipping cream

A pinch of cream of tartar

2

teaspoons

confectioner sugar

if required

chocolate shavings and fresh cherries for decoration
Instructions
Preparing cake sponge
Preheat oven to 200 degree celsius or 390 F.

Prep cake tin by greasing and lining the base of deep 6" round cake tin with grease-proof paper/baking parchment/butter paper.

In a large mixing bowl, pour melted butter, add sugar and mix for 30 seconds.

Pour milk and vanilla essence into the mixture and whisk to incorporate it together.

In the wet ingredients sift dry ingredients all purpose flour, cocoa powder, baking powder, baking soda and salt.

Mix it to a smooth flowing batter. Lastly add vinegar and mix.

Pour batter in greased cake tin.

Bake for 35 to 40 minutes or till the skewer comes out clean upon inserting in middle.

Once the cake is done take out of the oven and allow to rest in tin for 2-3 minutes.

Then invert on cooling rack to cool down completely.
Mean while let's prepare the cherry sauce.
Take a cherry and cut into half. Take out the seed with point of knife.




In a pan put all halved cherries.

Add water and sugar. Stir once. Let it come to rolling boil.

Reduce heat to medium/low. Cook 5 minutes while stirring frequently.

Switch off the burner. Syrup will thicken slightly when cooled. Cooking time may vary slightly depending on ripeness of cherries.

Strain the syrup and reserve it. Take out the cherries in a bowl.
Preparing the whipping cream
Whip the remaining cream until soft peaks forms. Then add cream of tartar to stabilise the cream. Whisk again to form stiff peaks.
Assembling the cake
Once the cake sponge gets cool down. Cut it into halves with a serrated knife.

Take a skewer and poke the cake few times. Then brush cherry sauce on the surface of cake.

Put a dollop of whipped cream and spread it to the circumference.

Then place all the cooked cherries and spread it into a thin layer.

Carefully place the other half of the cake and poke this layer with skewer also. Brush with cherry sauce.

Then cover the cake on all sides with whipped cream. I have crumb coated the cake. Which means just to cover the cake with a thin layer of frosting. Also known as naked cakes.

With the help of star nozzle place rosettes at the edge of the cake. Place some cherries in between for garnishing.

Place some chocolate curls at the center and stick on the sides.

For best results it is advised to refrigerate the cake for an hour to two prior to serving. Slice while well chilled.