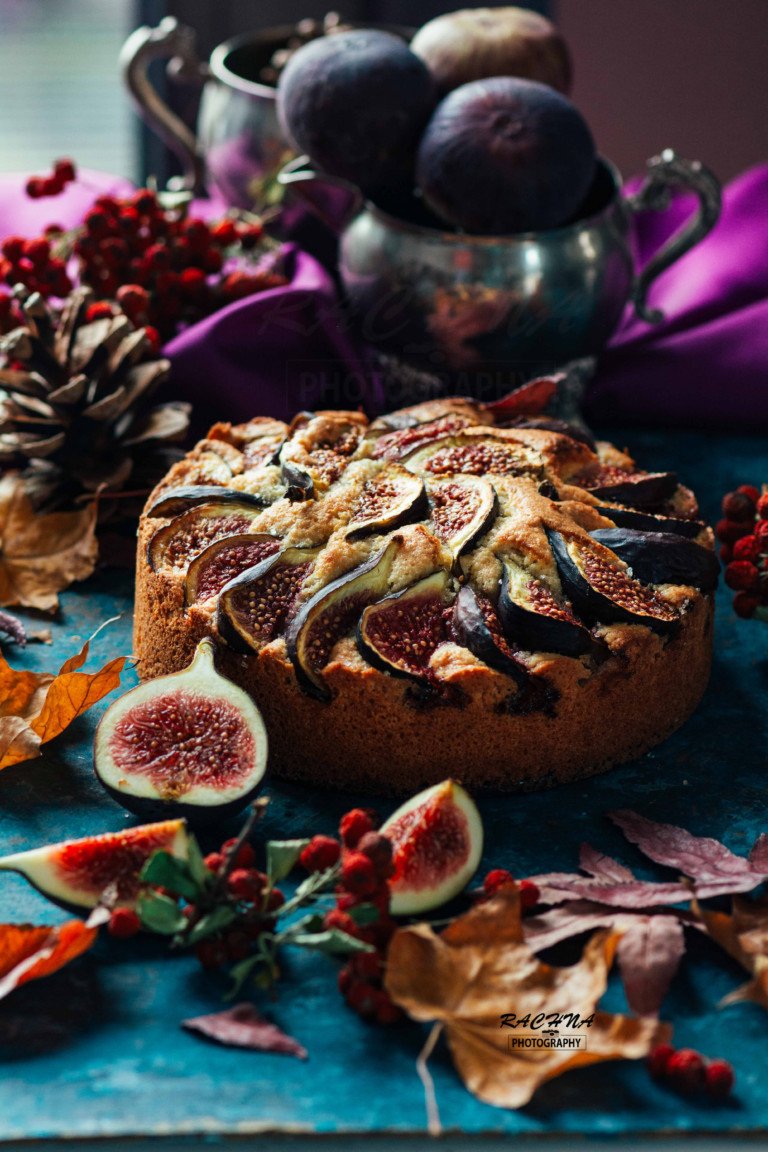 Figs and almond cake – a rich, dense yet airy cake made with plump figs.
I had a lots of figs lying idly in my refrigerator since past few days. I generally have them in my morning smoothie bowl. Figs are seasonal fruits, available for limited time. So thought why not to try something different.
When tried this recipe, I was amazed by the texture and taste that came out. It was subtly sweet enough to have with a cuppa. Honestly speaking, it was finished in one go just by three of us. And the highlight is I just got a small piece of it. Poor me 🙁
Figs are luscious fruits with a unique texture, smooth skin, chewy interior, and crunchy little seeds. Figs are available for very short time from June to September. Due its short availability, I don't leave any chance to use them in my recipes.
Recently I have tried fresh figs milkshake, it was super delicious. A great way to have quick breakfast.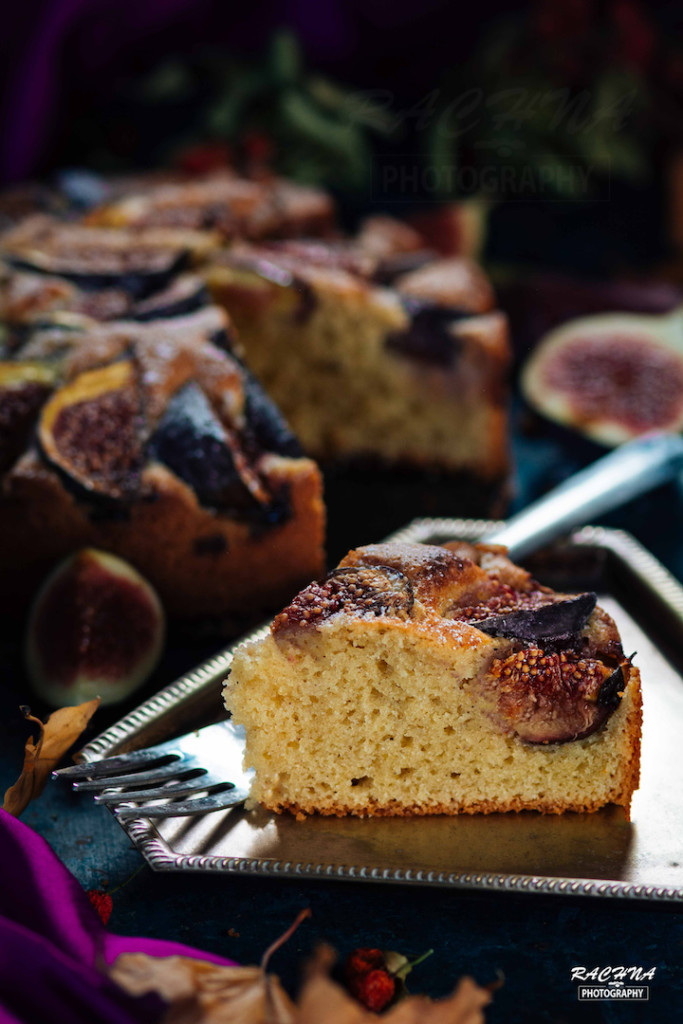 While searching about figs, I found some interesting information and facts. Sharing few favourite here.
The seeds inside the figs , which is my favourite part of the fruit, are actually blossoms. Fig trees have no blossoms on their branches.
Fresh figs, especially black mission figs, are high in phytonutrients and antioxidants such as carotenes, tannins, lutein, and chlorogenic acid  and anti-oxidant vitamins such as vitamin A, E, and K.
Figs are also known as the "fruit of the gods".
Figs are highly nutritious. 100 grams of dried figs contain 162 mg of calcium.  In fact, half a cup of figs has the same amount of calcium as half a cup of milk.
They are high in fibre. 2 ounce of fresh figs contains 140 calories and contain fibres equivalent to a slice of high fibre bread.
The priests at Mission San Diego originally planted figs in California in 1769. This is how the dark purple fig became known as "Mission."
Many believe it was figs that were actually the fruit in the Garden of Eden with Adam and Eve, not apples.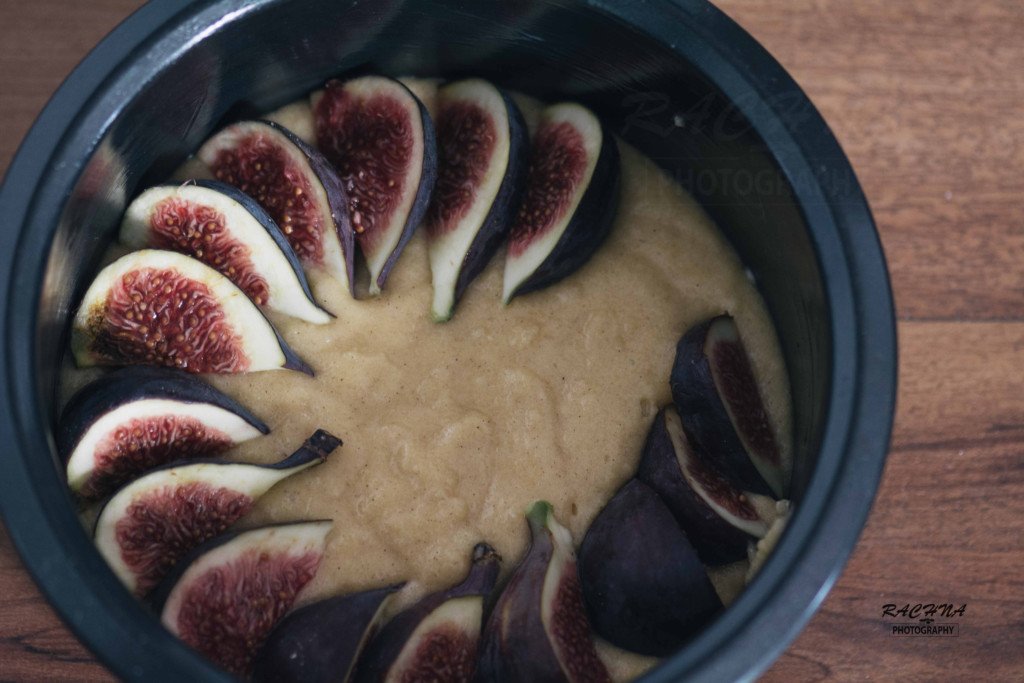 This rustic figs and almond cake recipe is quite simple. It is a perfect balance of subtle sweetness and of spiciness from cinnamon. Baking the figs brings an almost honey-like taste — no frosting or glaze required  on this cake.
I have placed figs slices on the top of cake. If you wish to make fig upside down cake, the recipe will be the same just arrange figs slices at the base of cake pan and then pour the batter. This will make fig upside down cake.
This summer I have also tried my hands on baking few very delicious fall cakes eggless apple upside down cake, Eggless rhubarb muffins with rhubarb syrup and bisquick blueberry cobbler recipe
If you are also interested in eggless baking you may check these basic chocolate cake without condensed milk, chocolate walnut cake, eggless vanilla cake in microwave.
Lets check the recipe now.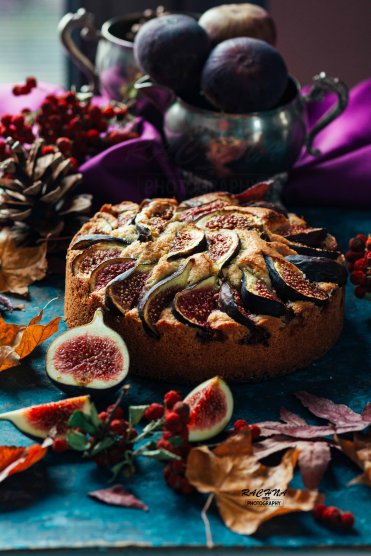 Figs and almond cake recipe | Fig upside down cake
This rustic figs and almond cake recipe is quite simple. It is a perfect balance of subtle sweet and spicy from cinnamon.
Ingredients
Wet ingredients
2

eggs

50

grams

butter melted

1/2

teaspoon

vanilla essence or almond essence
Dry ingredients
1/4

cup

sugar + 2 tablespoon sugar

1

cup

almond flour

¼

cup

all-purpose flour levelled or self raising flour

½

teaspoon

baking powder

⅛

teaspoon

cinnamon

A pinch of salt

5-6

figs

cleaned, sliced
Instructions
Preheat the oven at 375 Fahrenheit (190C ).

Prepare a 20 cm cake pan by greasing and flouring.

In a mixing bowl, add eggs. Whip it with a stand mixer or hand mixer on low speed for about 30 seconds.

Add melted butter and whip again about 30 seconds.

Add sugar by two tablespoons at a time. Do not add all at once. Beat at low to high speed till its consistency is like ribbon. It will take around 2 minutes.

Add vanilla essence or almond extract and mix.

Then add almond powder, self raising flour, baking powder, cinnamon and salt.

Just combine the dry ingredients into wet ingredients. Do not over mix or beat.

Scrape the batter into the prepared pan. Arrange the figs slices in circular manner.

Bake for 35 minutes until the cake is well risen, firm, and the skewer comes out clean.

It should also be golden brown on top. The cake will form a slight dome. But it will settle down after cooling down.

Cool the cake on a wire cake rack for ten minutes. Serve it with cup of

tea

.